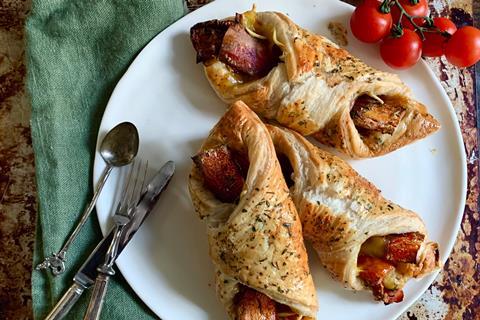 Bakers, retailers and manufacturers are gearing up for Veganuary 2021 with a host of new products.
There's sweet and savoury treats galore from protein cookies to pizza, 'bacon' turnovers and quiche.
According to The Vegan Society, there are roughly 600,000 vegans in Britain, with 400,000 people worldwide signing up to take part in Veganuary last year. It added that it expects these numbers to swell for Veganuary 2021.
Here's some of the NPD hitting the shelves ahead of the occasion: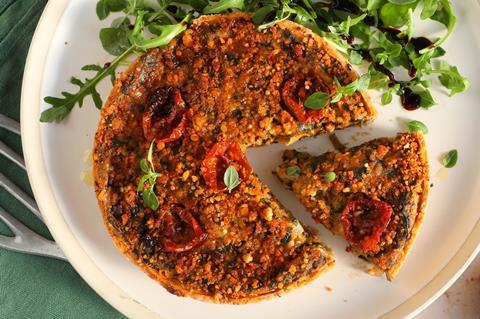 Vegan Quiche, Higgidy
Savoury pastry brand Higgidy has launched its first-ever vegan quiches as part of its expanded plant-based range.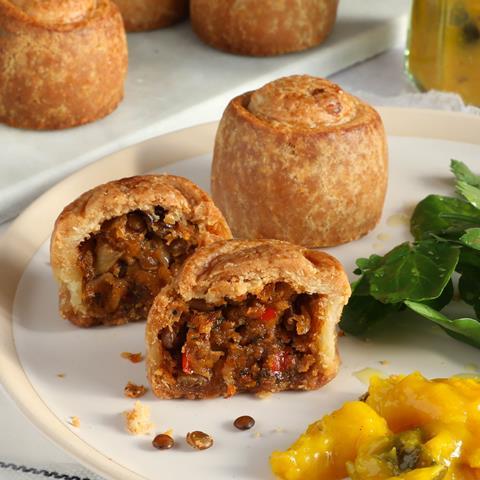 The firm said it has cracked the recipe for a vegan quiche with no cream, milk or eggs. Packed full of veg, the quiche come in two variants – sharing-sized Spinach & Roasted Tomato Vegan Quiche and the individual-sized Porcini Mushroom & Spinach Vegan Quiche.
Higgidy is also adding Mini No-Pork Pies, made with vegetables and green lentils, to its line-up.
The range will be available in Waitrose from 30 December, as well as Sainsbury's and Boots early in 2021. Prices range from £2.50 to £4.25.
"The expansion of our plant-based offering is a really exciting move for us and we see it becoming an increasingly important area within the Higgidy portfolio. Our ambition is to become the market leaders of vegan pastries," said Higgidy co-founder Camilla Stephens.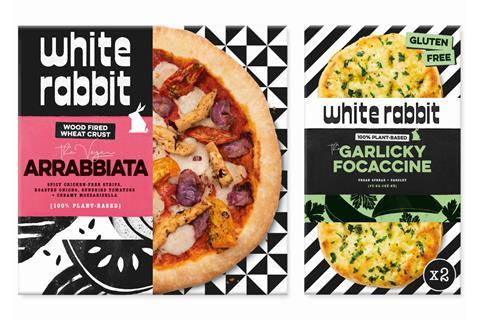 The Vegan Arrabbiata, White Rabbit Pizza
Pizza specialist White Rabbit is venturing out of the free from aisles and into the mainstream with its latest piece of NPD – The Vegan Arrabbiata.
It marks the company's first wheat base pizza as it ventures outside of its usual gluten-free remit. Still catering for the meat- and dairy-free audience, The Vegan Arrabbiata has a wood-fired base and is topped with spicy chicken-free strips, roasted onions, sundried tomatoes and creamy mozzarisella (a vegan mozzarella alternative).
To distinguish its latest launch from the rest of its portfolio, White Rabbit has given it a 'bold new pack design'. It hits shelves in Sainsbury's on 2 January with an rsp of £4.50.
Its free from range is also being extended with a plant-based Farmhouse Foccacine in Waitrose and a Garlicky variant launching in Sainsbury's and Ocado. They're priced at £3 for 2 x 135g packs.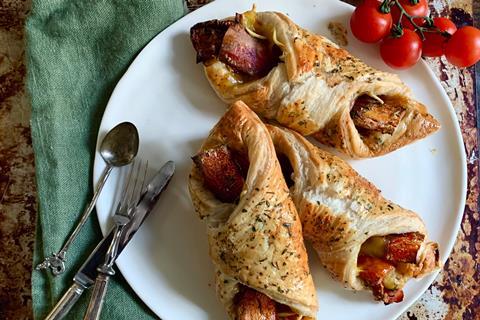 This Isn't Bacon Turnover, Coughlans Bakery
Coughlans Bakery has extended its vegan-friendly portfolio with a vegan bacon turnover.
Called the This Isn't Bacon Turnover, it features plant-based rashers from firm This Isn't alongside vegan cheese and slow roasted tomatoes wrapped in puff pastry.
The chain, with shops across south London and Surrey, has focused on plant-based NPD in recent years, with launches including a vegan sausage roll and a Vegan Bacon & Beef Wellington.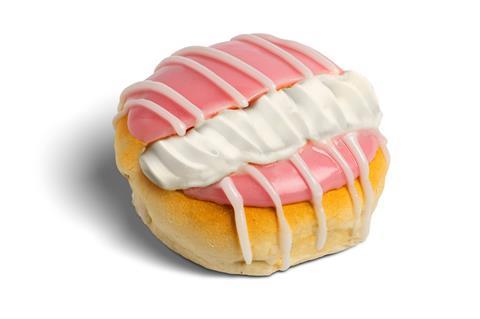 Vegan Devonshire Split, Cooplands
Cooplands has launched what it claims to be the first vegan-friendly cream cake on the UK high street. It's Vegan Devonshire Split comprises a soft sweet bun filled with strawberry jam and a whipped cream alternative from the makers of Elmlea's Plant Cream.
It also has a new vegan savoury pastry range will include sausage rolls and steak bakes, plus a vegan pizza slice made with Violife's Epic Mature Cheddar. There will also be a Cheeze & Pickle Sandwich made with the same vegan cheese as well as a Cheeze & Vegetable Bake, which it introduced earlier this year. All of these will be on sale at its 170 stores across Yorkshire, Lincolnshire, Nottingham and the north east from January.
The Cooplands vegan range includes: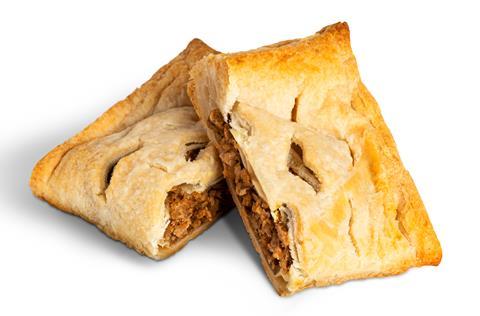 Vegan Sausage Roll – £1
Vegan Steak Bake – £1.50
Cheeze & Vegetable Bake – £1.50
Vegan Pizza Slice – £1.55
Cheeze & Pickle Sandwich – £1.65
Vegan Devonshire Split – £1.15
"We are committed to creating great food that everyone can enjoy whether they're meat lovers, flexitarian, dairy-free or vegan. We've worked hard to create our vegan range that packs in all the flavour and that tastes so good, it would be hard to tell the difference or miss the meat," said Cooplands CEO Belinda Youngs.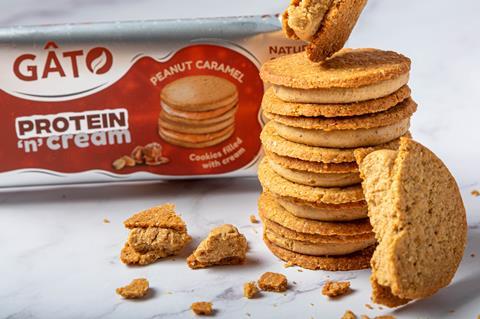 Protein 'n' Cream Cookies, Gâto
Plant-based specialist Gâto is looking to tick all the boxes with its latest range. Called Protein 'n' Cream, the four-strong selection of sandwich cookies feature 10g of protein, as well as being vegan, gluten-free and containing 70% less carbs and sugar than other biscuits.
The variants are: Chocolate Orange, Salted Caramel, Peanut Caramel and Vanilla Cream. They see flavoured vegan caramel or cream sandwiched between crisp cookies, with natural ingredients such as almond butter and cacao.
Available in Boots stores nationwide, the protein cookies have an rsp of £2.19 per 50g pack.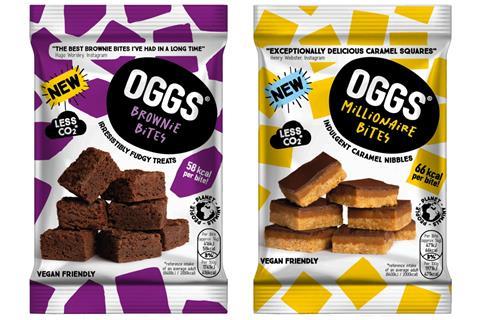 Oggs Bites, Oggs
Oggs is entering the snack aisle with a two-strong range of grab-and-go sharing bags.
They're available as Brownie Bites, described as 'fudgy and moist', and Millionaire Bites with vegan chocolate and caramel on top of a biscuit base.
The brownies have 58 calories per bite while the millionaire variant has 66 calories per bite. Both roll out in Sainsbury's and WHSmith stores in January 2021 with an rsp of £2.25 per pack of nine.
Instead of egg, Oggs uses aquafaba (chickpea water). It claims that by swapping out eggs, each bite generates five times less CO2 and a further eight times less by switching butter for a vegan option.
Mini Jam Doughnut, Birds Bakery
Birds Bakery is increasing its range of vegan-friendly products in time for Veganuary with a raft of new offerings including mini jam doughnuts, gingerbread biscuits and sandwiches.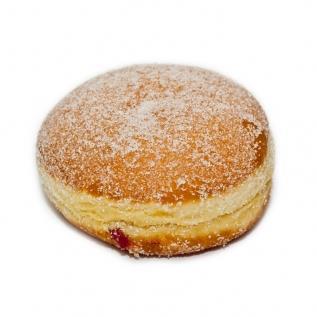 It's vegan-friendly line-up comprises:
Beetroot, Lettuce & Tomato Sandwich – £2.95
Houmous & Roasted Red Pepper Sandwich – £2.80
Savoury Rolls with Cranberries, Sweetcorn and Mixed Peppers – £1.25
Mozzarisella and Tomato Sandwich – £2.80
Mini Jam Doughnuts – 50p
Vegan Gingerbread Biscuits – £1.25