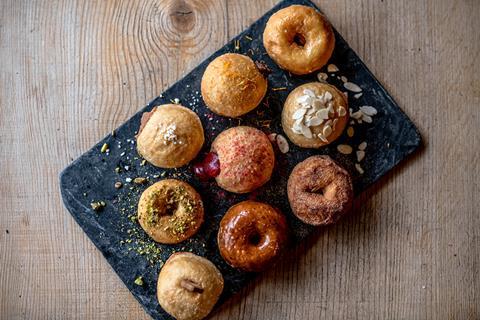 To celebrate Veganuary, bakery brands are rolling out an array of products for those adopting a plant-based lifestyle.
The new year has kicked off to a veg-tastic start with the launch of a host of vegan products from deep dish pizzas to pies, puff pastries and doughnuts.
Chicago Town, Delifrance and Renshaw are among those to tap into the growing demand for vegan food.
Higgidy, Coughlans Bakery and Oggs are among those to have already unveiled sweet and savoury treats galore this month.
Here's our latest plant-powered picks for Veganuary 2021: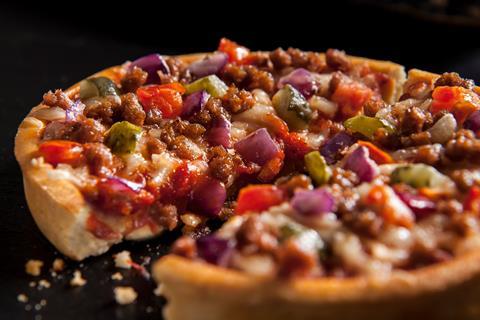 Chicago Town
Pizza brand Chicago Town has extended its vegan portfolio with two new variants.
Enter the Vegan Deep Dish Cheeezeburger and Vegan Tomato Stuffed Crust Takeaway Smokey Bac'n and Mushroom. Available to buy now, both pizzas are registered with The Vegan Society's Trademark.
The Vegan Deep Dish Cheeezeburger (£2.50) features a deep-dish crust with burger sauce and toppings of vegan mince, red onions, tomatoes, gherkins and mozzarella.
Its Vegan Tomato Stuffed Crust Takeaway Smokey Bac'n and Mushroom (£3.50) comprises a sauce-filled crust with toppings of smoky vegan bacon, a smoked gouda alternative, red onions and mushrooms.
"We are really excited to be expanding our vegan offering in takeaway as well as launching our first Vegan Deep Dish variant. We know that consumers love indulgent flavours in vegan pizza. Everyone can enjoy them – vegetarian, flexitarian, anyone who has a passion for pizza," said spokesperson Rachel Bradshaw.
These latest products follow the successful launch of the brand's first vegan pizza, Vegan Tomato Stuffed Crust Sticky BBQ Jackfruit. Following its rollout last year, it's now the biggest selling pizza in the UK with a value of almost £3m, according to data firm IRI.
Consumers can find both pizzas in Tesco's and Morrisons, and the Vegan Deep Cheeezeburger exclusively in Iceland.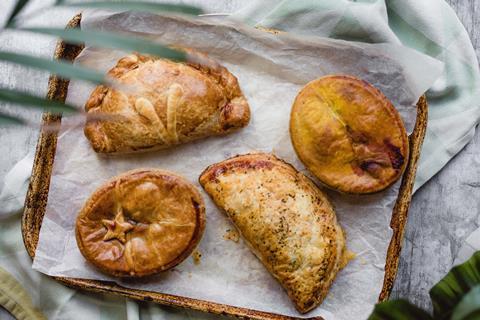 Chunk of Devon
Exeter-based Chunk of Devon has launched a Vegan Selection Box.
With an rsp of £30 for a box of eight, it comprises three pies and pasties along with the new Cheatin' Cheese Pasty.
The line-up features:
Chunki Roast Veg Pasty – contains roast vegetables, encased in wholemeal pastry and topped with a pea glaze.
Spicy Jack Pie – filled with jackfruit, sweet potato, squash, peppers and coconut milk. It is encased in whole wheat and turmeric pastry and topped with fennel seeds.
Nips and Nuts Pie – encased in wholemeal shortcrust pastry, it is loaded with parsnips glazed in sherry, butternut squash, chestnuts and cranberries.
Cheatin' Cheese Pasty – has its signature lightly roasted potato chunks, onions and herbs wrapped in a vegan puff pastry. The cheddar does not contain dairy.
"We have been creating award-winning pies for nearly 15 years and our focus has always been on producing great tasting products, using locally sourced ingredients with no additives. This collection is no exception. It's all about the taste, so whether you are a vegetarian, vegan or just an all-round lover of pies, we are confident that you'll adore our vegan range," said Simon Byron-Edmond of Chunk of Devon.
The Vegan Selection Box is available for nationwide delivery via the Chunk of Devon website.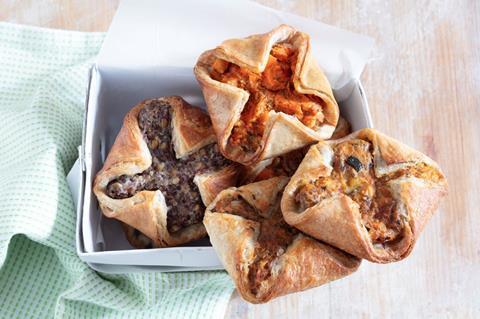 Délifrance
The bakery supplier has unveiled Vegan Baskets targeting operators and retailers looking to build on their vegan offering.
Délifrance has selected a host of fillings encased in savoury buckwheat puff pastries. Each recipe is free from palm oil and additives.
The line-up includes carrots, cumin, sweet potatoes and chickpeas for a source of fibre; quinoa, lentils, coriander and green apple for protein; and tomatoes, courgettes, onions and sweet potatoes, which is inspired by ratatouille.
"We know one third are following a flexitarian diet and veganism is at an all-time high, with a 62% increase in those following a vegan diet. Aligned with this is the growing consumer trend for health and nutrition and demand for functional foods," said Stephanie Brillouet, marketing director at Délifrance.
"It's increasingly important for operators and retailers to tap into this to remain ahead. That's why we've created our Vegan Baskets. Nutritionally rich, easy to bake and full of flavour, they are an ideal choice for all consumers from flexitarians through to vegans."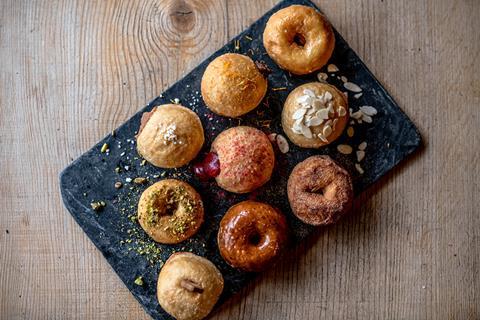 Knead A Little Love
Balham-based Knead A Little Love has unveiled a box of handmade vegan doughnuts.
Called the Vegan Variety Doughnut Box, the nine-strong selection is both experimental and traditional, it said.
The variants are: chocolate orange; pistachio, almond & cardamom; date & caramel glaze; spiced apple with apple flavoured topping candy; cinnamon; and strawberry jam.
The doughnut box is available to order via the Knead A Little Love website for an rsp of £25.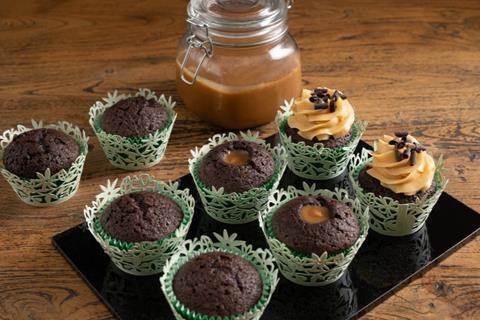 Renshaw
Renshaw has launched a wholesale vegan caramel filling to tap the growing demand for plant-based food and drink alternatives.
Called Creamy Vegan Caramel, it is described as the first plant-based caramel product of its kind which maintains the functionality and flavour of traditional creamy caramel.
The ready-to-use product is suitable for filling and decorating chocolates, doughnuts, pastries, cakes and tarts. It is also freeze/thaw stable.
"The exciting launch of Creamy Vegan Caramel has had a great reception from our customers, and offers them a versatile and ready-to-use solution for creating delicious vegan treats, desserts and beverages," said Kerrie Medlicott, head of marketing and UK sales for Renshaw and Rainbow Dust.
Hannah Kennedy, product manager at Renshaw, added: "Our Creamy Vegan Caramel is deliciously smooth and creamy, with no compromise on taste or functionality. It has a traditional caramel taste profile, and is not made with coconut milk, so you'll find it has a creamy and buttery authentic caramel flavour."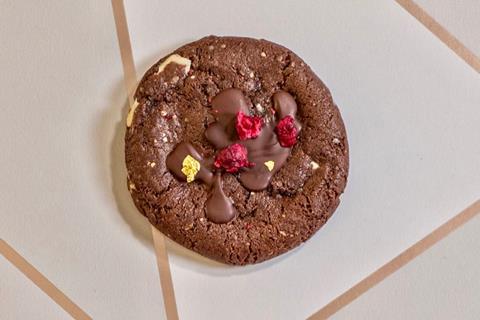 Floozie Cookie
Vegan brand Floozie Cookie has rolled out a Black Forest Stuffed Cookie.
Exclusively for Veganuary, the homemade fudge dark chocolate cookie is studded with plant-based white chocolate, stuffed with homemade morello cherry jam and topped with an edible gold leaf.
The limited-edition special is on sale all month, for an rsp of £3.50 and is available as part of a gift box of six, 12, 18 or 24.
"The black forest cookie is inspired by the classic black forest gateaux. To make it extra special, we finish each cookie with a melted dark chocolate and gold leaf. I chose this rich and fruity flavour to lift gloomy January days and the gold leaf is a little bit of luxury since January seems to always get a bit forgotten after all the Christmas festivities," said chef and founder Kimberly Lin.
Consumers can collect the cookie at its Covent Garden store or order via the website for nationwide delivery. It can also be ordered through Deliveroo for delivery to the Covent Garden area, Tower Bridge, Victoria, Clapham or Oxford Circus. Online ordering service Slerp is also offering delivery to select postcodes in London.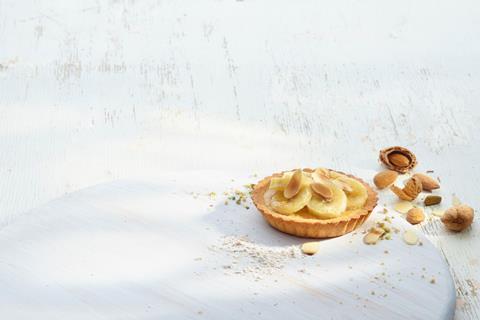 Pidy
Belgian pastry specialist Pidy has launched a vegan range including a shortcrust pastry case.
The firm said it is one of the first professional pastry suppliers to launch an extensive vegan range, which is targeted at chefs and operators.
Its 'sweet' shortcrust pastry case features a fluted design and a diameter of 9.5cm for the optimum-sized individual tartlet serving.
The pastry is made from a plant-based recipe that uses responsibly sourced margarine. It features the same crisp, golden finish and 'buttery' flavour of Pidy's signature classic sweet sablee shortcrust pastry, it said.
It can be filled up to two hours before serving, depending on the moisture content of the filling, while still maintaining its crispness.
"Our plant-based range means vegans and those on a dairy-free diet can enjoy Pidy pastry. The ready-to-fill nature also means that it is easy and convenient for chefs and caterers to prepare too! We have carefully developed plant-based shortcrust and foncage recipes to give our customers even more choice when creating vegan dishes," said Fabien Levet, commercial manager at Pidy UK.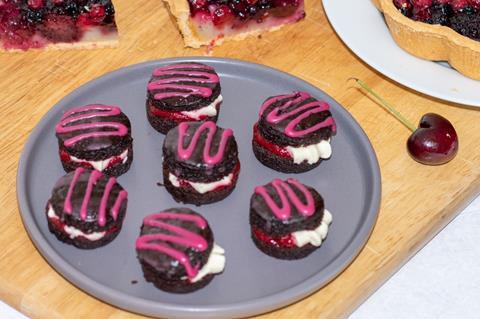 Frank Dale
To celebrate Veganuary, the Norfolk-based brand has added a trio of bite-sized treats to its vegan range.
The new offerings are aimed at those who want to exercise portion control without overdoing the calories, it said.
Its Spring Vegetable & Mature Cheese Tart is filled with broccoli, pea and mint in a British oat-based vegan custard. Encased in a stone baked British oat and pea flour pastry, it is topped with mature vegan cheese.
The 400g Woodland Berry & Sable Crust Tart is made up of a sable pastry case filled with vanilla vegan custard. Blackberries, cherries, redcurrants and blueberries add a burst of colour.
Both tarts are available for an rsp of £4.99.
For those seeking indulgence, the Mini Chocolate & Raspberry Cakes will do nicely. The moreish vegan chocolate and avocado sponge cakes are filled with a raspberry compote and sweet plant-based cream, drizzled in a vibrant pink icing. At an rsp of £6.99, they come in a pack of 12.