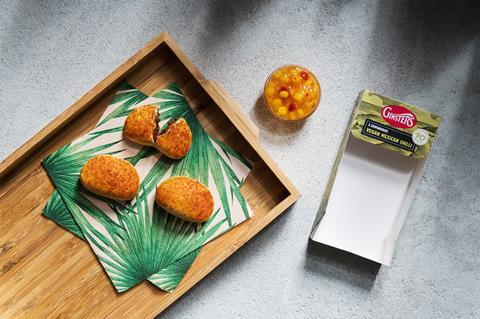 Ginsters and Cooplands have rolled out new vegan savoury pastries – a Mexican-inspired empanada and cheese & vegetable bake.
Ginsters has partnered with Finnish Gold & Green Foods to create a vegan empanada containing pulled oats, a plant-based ingredient which it said is new to UK savoury pastry aisles.
The Vegan Mexican Chilli Empanada comprises marinated pulled oats – a meat alternative made from a high protein mix of oats, peas and faba beans – piquante pepper and ancho chillies in a smoky Mexican style sauce. The light pastry is finished with a smoked paprika topping.
Pulled oats are free from additives and Ginsters has tipped the ingredient to be big in the UK, having already taken 'Finland and Sweden by storm'.
The empanadas are available in Morrisons stores nationwide for an rsp of £1.50 (two-pack) or £2 (three-pack).
"The debut of pulled oats into UK savoury pastry, alongside contemporary flavours in this range, will expand our core snacking and vegan offering – two increasingly popular trends that will continue to boom," said Kiran Hemsworth, managing director at Ginsters.
The empanadas contain less than 100 calories and tap into the preferences of pre-family shoppers who under index in the savoury pastry snack category, the firm added.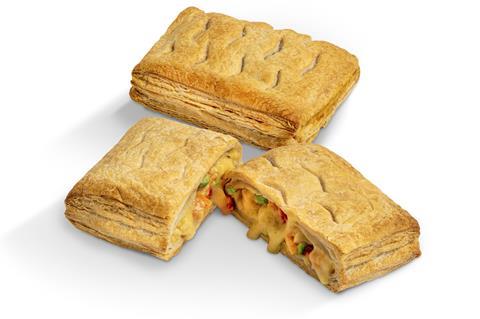 Cooplands, meanwhile, has teamed up with Violife to launch a Cheeze & Vegetable Bake to its menu.
It's available now in all 160 of the bakery's stores for an rsp of £1.50. The bake is made up of mature cheddar flavour, Violife's dairy-free cheese alternative, vegetables, a hint of chilli and dairy-free creamy sauce, encased in a flaky pastry.
It has been created to meet the increasing demand in the north east and Yorkshire region for vegan products that don't compromise on taste, said Cooplands.
"We are excited to partner with Violife to create a new plant-based cheese bake using their great tasting cheese replacement product. For people who are either vegan or just looking to eat less meat in their diet or trying to do their bit for the environment, it is a tasty option," said Belinda Youngs, CEO at Cooplands.