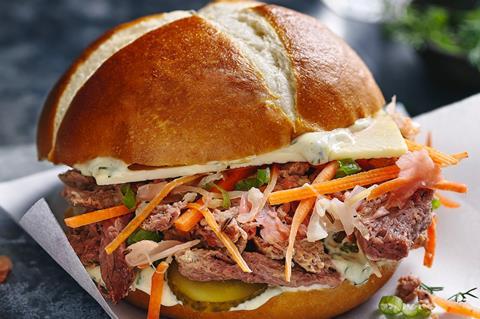 Retailers have ramped up their vegan bakery ranges for Veganuary 2021.
M&S, Tesco and Aldi are among those to roll out new plant-based products during the month in which some consumers challenge themselves to adopt a vegan lifestyle.
Launches include pretzel rolls, chocolate cookies, onion bhaji wraps and pain au chocolat.
Brands have also tapped into demand for vegan bakery products. Chunk of Devon, Délifrance and Pidy are among those to have already rolled out an array of plant-based products this month.
Here's our pick of the retailers' vegan ranges: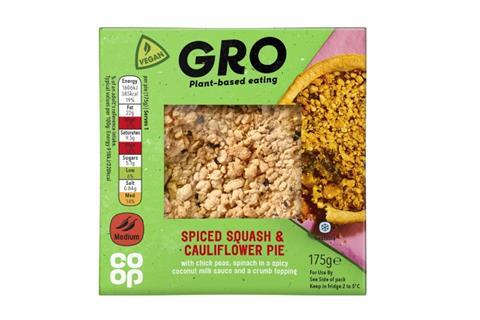 Co-op
Co-op has extended its vegan bakery offering with a host of treats, including pies and a beefless wellington.
The launches are part of its own-label Gro range aimed at the growing number of shoppers looking for meat- and dairy-free foods, it said.
The Spiced Squash & Cauliflower Pie (£2.50) contains butternut squash, cauliflower, chickpeas and spinach in a spicy coconut milk sauce. Encased in shortcrust pastry, the pie has a crumble topping.
The Mushroom & Spinach Wellington (£3.75/two) features a mushroom and seiten base, coconut oil-based sauce and spinach which is all encased in puff pastry and sprinkled with pine nuts.
"As a convenience retailer with stores in every postal area, it's important that we cater for all our shoppers. Growing our plant-based offering will continue to be a priority for 2021 and our expert team of developers have already created some amazing new products to kick start the new year," said Breige Donaghy, director of Delicious Food, The Co-op.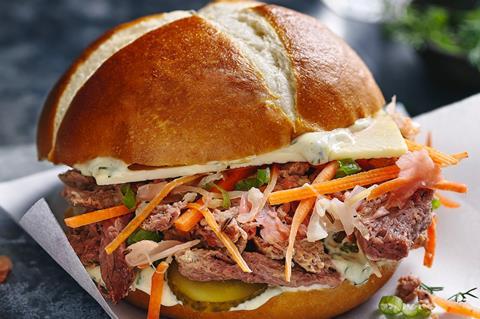 M&S
To celebrate Veganuary, the retailer has expanded its own label vegan range.
Its New York Pretzel Roll with No Salt Beef (£3.50) is filled with marinated wheat and vegetable protein, sauerkraut, carrot, and spring onion slaw. Pickled dill cucumber, mustard dressing and coconut-based cheese are also packed into the traditional pretzel roll.
The two-pack No Beef Steak Bakes (£3.30) see the retailer take on the Greggs Vegan Steak Bake. The M&S version sees pea protein 'steak' and mushrooms encased in a puff pastry.
For those with a sweet tooth, there's Vegan Chocolate Chip Cookies (£0.75 each). Described as soft and gooey, the plant-based cookie is packed with Belgian chocolate chips.
"All of our Plant Kitchen dishes have been developed with a 'flavour first' mentality. We're super excited about our new pea protein ingredient which we have been working and experimenting on for the past 12 months," said James Fisher, product developer for Plant Kitchen, M&S.
"We took it back to the kitchen and taking some of the UK's most popular recipes to see what would work – through lots of trials and errors we found that we could replicate amazingly well."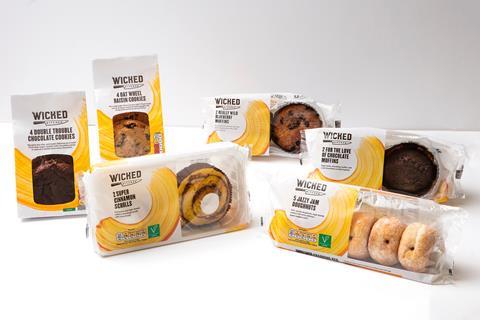 Tesco
Tesco has rolled out an array of bakes for its own-label line-up.
The Wicked Kitchen range includes a selection of muffins, cookies, doughnuts and cinnamon scrolls.
Its Jazzy Jam Doughnuts (£1/five pack) are a plant-based twist on the bakery classic. Described as squishy and soft, the dough is dusted with sugar and stuffed with apple & raspberry jam.
The Super Cinnamon Scrolls (£1.85/two pack) feature dough swirled with cinnamon and sugar, topped with a drizzle of icing.
For dessert, the Double Trouble Chocolate Cookies (£1.50/four pack) pack a punch with a chocolate flavour and dark chocolate pieces.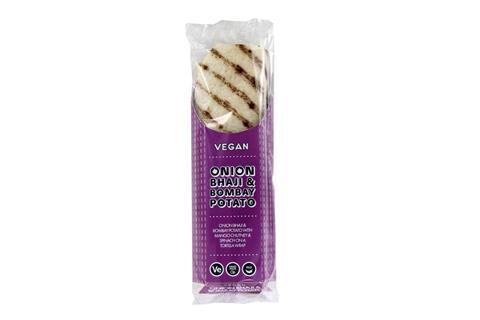 James Hall & Co
Spar wholesaler James Hall & Co has launched a host of plant-based and free-from treats, with a vegan range among them.
The line-up includes an Onion Bhaji & Bombay Potato Wrap and a vegan Cheese Salad Wrap.
This comes after the successful launch of the retailer's first vegan range in February 2019.
"Completing our current sandwich and wraps range, these new delicious flavours will offer customers the very latest in on-trend lunchtime options. Many customers are looking for lighter, meat-free options that are full of flavour and we think they will be delighted with the new range of fusion food-to-go options," said Peter Dodding, sales and marketing director at James Hall & Co.
The vegan wraps, which are available for an rsp of £2.95, will be part of Spar's meal deal.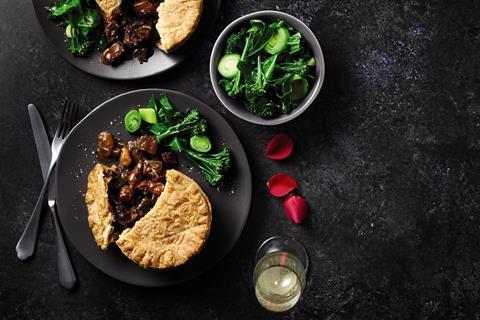 Aldi
Aldi has expanded its vegan own-label range called Plant Menu.
The retailer expects to see sales of vegan food sales double as a result, it said.
For a breakfast treat, consumers can try the Vegan Pain Au Chocolat (£1.49/eight pack). Designed for an on-the-go snack, it is made with vegan puff pastry and vegan chocolate chips.
Its Specially Selected No Beef Bourguignon Pie (£1.69) sees shortcrust pastry filled with a seitan, mushroom and onion in a red wine gravy, and is topped with a puff pastry lid.
Another pie comes in the form of the Specially Selected Vegan Rainbow Pie (£1.69). It has a tomato & chilli shortcrust pastry and a 'rainbow vegetables' filling in a spiced tomato & harissa sauce all topped with herbs and seeds.
The vegan pizzas (£1.99) include variants such as BBQ Pulled Jackfruit, Spicy Cauliflower, and a meat-free Chicken Arrabiata.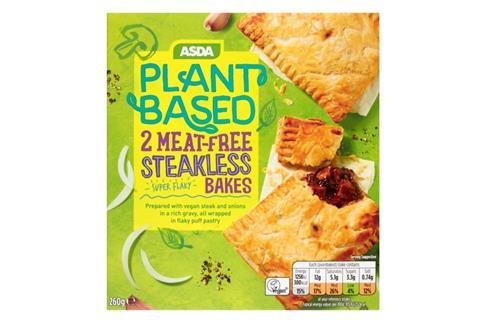 Asda
Asda has rolled out a host of meat-free treats for those embracing the plant-based lifestyle.
Called Plant Based, the range includes a duckless wrap, meatless sausage roll and steakless bake.
The Hoisin Duckless Wrap (£2.50) features a vegan flame grilled soya protein bursting with 'familiar oriental flavours'.
A popular classic comes in the form of Meat Free Sausage Rolls (£1.50). Encased in flaky pastry, the snack is packed with a lightly seasoned soya protein.

The Steakless Bakes (£1.50) contain wheat and pea proteins, as well as steak style pieces coated in rich onion gravy and wrapped in flaky pastry.