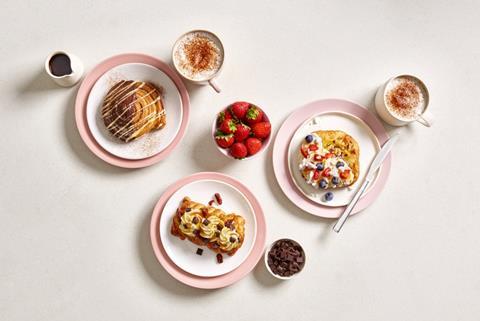 Consumer research shows untapped potential in the Danish pastry market, according to Schulstad Bakery Solutions.
The Lantmännen-owned firm believes the demand for Danish pastries means it's time for a product 'glow up' – a major and impressive transformation – within the category.
"For consumers, quality is key, especially when it comes to long-standing heritage items like the much-loved Danish pastry, with 76% of consumers tempted to buy a sweet topped Danish pastry and 79% willing to pay more for one," said Samantha Winsor, marketing manager for Lantmännen Unibake.
"This proves there is an exciting opportunity for outlets to not only have some fun with these traditional products but, more importantly, drive sales and subsequent profit in the current challenging economic climate," Winsor added.
Schulstad Bakery Solutions asked consumers what would encourage them to purchase the product, focusing on its top three best-sellers: Maple Pecan Plait, Cinnamon Swirl and Vanilla Crème Crown.
Results showed Schulstad Bakery Solutions' Cinnamon Swirl was the Danish Pastry consumers would most like to customise (46%). The research also showed that 79% of consumers were willing to pay more for an indulgently topped Danish pastry (on average 78p more), while 66% would be more likely to buy a Danish pastry if they could customise the toppings.
When asked how they would like to customise a Danish pastry, 34% consumers would opt for chocolate sauce, and 33% would incorporate caramel, toffee, fudge or butterscotch flavours. Chocolate pieces would be the number one topping of choice for 31% of consumers, and whipped cream would be the preference for 30%.
Consumers also shared how they would elevate their Danish pastry to a dessert level: ice-cream was the most popular accompaniment (32%), with cream or whipped cream in second place at 29%, and chocolate pieces in third (28%). More than half of consumers (57%) would prefer to have their topped Danish pastry as a hot dessert.