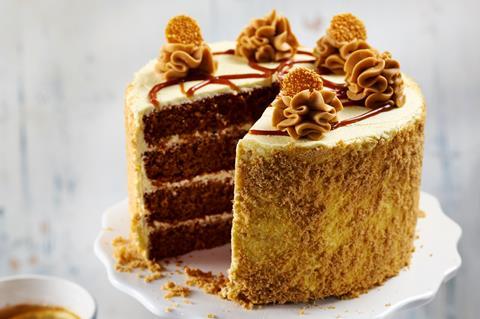 Deli Kitchen, Baker Street and Mr Kipling are among the brands to unveil a raft of new bakery products as consumers seek alternative lunch options and permissible treats.
The new products include a five-strong range of wraps, chocolate tarts and 'drive-thru classics' in the form of hot dog and burger buns ahead of what's expected to be a huge UK barbecue season.
Here's the last NPD to hit shelves:

Wraps, Deli Kitchen
Signature Flatbreads is boosting the presence of its Deli Kitchen brand on Tesco shelves with five new types of wrap. The new products are:
Carb Lite Wraps
Wheat & White Wraps
Malted Rye Wraps
Plain Wraps
Plain Mini Wraps.
They have rsps ranging from 95p to £1.40 and join the brand's existing products – Brioche Style Wraps, Greek Style Wraps and Focaccia – on Tesco's shelves. Deli Kitchen noted a 78% uplift in sales in 2020, partly fuelled by the pandemic driving demand for 'more interesting lunch options at home'.
The range is rolling out with new-look packaging following a brand refresh for Deli Kitchen as it looked to increase its 'on-shelf impact'.
In addition, the launch will be supported by a social-led advertising campaign which will feature British-Cypriot dance duo Stavros Flatley, due to go live in late April. The pair hit the limelight on Britain's Got Talent and will add humour to an advertising campaign which uses the slogan 'Don't be a Loafer', and bids to inspire UK consumers to rethink their lunchtime options.
"The Deli Kitchen brand has gone from strength to strength, especially in the last year, as consumers look to add interest to at home food options," said Signature Flatbreads' joint MD David Laurence. "We anticipate strong sales and future range growth as more people try the products and they become a firm favourite."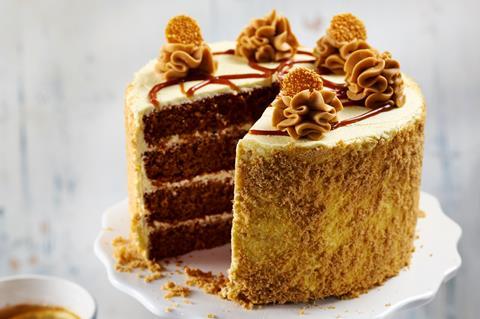 Caramelised biscuit celebration cake, Asda
Asda is tapping into the nation's love of all things speculoos with its new Caramelised Biscuit Celebration Cake.
The cake is made of sponge soaked in a speculoos and caramel flavouring, topped with vanilla frosting, caramel frosting rosettes and caramel sauce, all finished with a coating of speculoos crumb. It serves 16 and costs £13.
"We've seen the trend for speculoos flavour continue to grow and know our customers will love this rich indulgent treat," said Becky Price, celebration cake product developer. "Perfect for any celebration or afternoon tea, it's bound to be a crowd pleaser."
Chocolate tarts, Mr Kipling
Premier Foods has extended its Mr Kipling range with Chocolate Tarts (rsp £1.89 per six-pack).
The tarts feature a light pastry case with a layer of chocolate-flavoured mousse with chocolate-flavoured icing and sugar sprinkles on top. They contain no hydrogenated fat or artificial colours, Premier Foods noted, and have 100% natural flavours.
"The launch will also appeal to traditional convenience shoppers, who are continuing to purchase smaller treats, making them more inclined to pick up a cake as an impulse purchase," said Mathew Bird, brand director for sweet treats at Premier Foods.
"Over lockdown, there has been a surge of new shoppers buying into the pies and tarts sector, with pre-family and younger family shoppers seeing the biggest growth."
Drive-thru classics, Baker Street
St Pierre Groupe's Baker Street brand has secured its first major multiple listing with Tesco for a new range of Original Burger Buns and Classic Hot Dog Rolls.
In its new look packaging, the 'Drive Thru Classics' range is designed to cater to the growing fakeaway trend. Both the six-pack of burger buns and four-pack of hot dog rolls retail at £1.29.
"Baker Street is perfectly placed to fill a gap in the market," said St Pierre Groupe founder Jeremy Gilboy. "A combination of anxious consumers retreating to comfort foods and familiar classics, and the closure of the UK's restaurants has driven demand for the at-home fakeaway.
"The nation's favourite fast-food restaurants don't use rolls for burger buns – and with good reason. We worked closely with Tesco to develop a proposition that would drive sales and the extended-life of the Baker Street range will be a real help as we head into what's set to be the biggest BBQ season on record."
The brand launched its Stollen exclusively with Tesco for Christmas 2020 and after driving value sales of more than £1.4m, the brand leveraged seasonal success to secure a permanent listing.
Baker Street has grown 30% year on year and is celebrating five consecutive years of double-digit growth, with a brand value in excess of £25m. St Pierre Groupe, meanwhile, saw revenue pass £100m in 2020 with co-founder Paul Baker eyeing £150m by 2022.