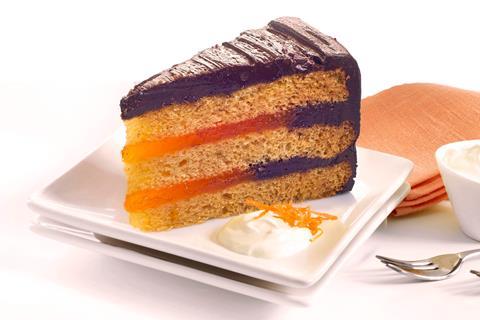 Brakes has launched a cake range aimed at helping operators tap into the vegan boom.
Its line-up comprises the Vegan Jaffa Cake, Vegan Salted Caramel cake, Vegan Choc Fudge Cake Pre-cut, Vegan Cherry & Chocolate Dessert and Vegan Jam Roly Poly.
The Vegan Jaffa Cake – described as the first in foodservice – is the centrepiece of the collection of 'classic and modern' bakes.
Covid-19 has driven a growing trend towards familiar, nostalgic comfort food, said the firm. The vegan sector has grown by more than 400% in the past five years, it added.
"We've developed a fantastic range of vegan products, which do not compromise on taste or quality and will help our customers take a slice of this increasingly lucrative sector," said Vanessa Baker, category manager for bakery, desserts & ice cream at Brakes.
"The growth of vegan products has been exponential and it shows no signs of stopping. It's important, particularly in these difficult times, that we help our customers to capitalise on as many opportunities as possible."
French Mademoiselle Desserts teamed up with Brakes to create the Vegan Jaffa Cake.
"We wanted to create a cake that wasn't just vegan; but would perform well in its own right. In consumer trials, the feedback we received was amazing, and completely supported our belief that this is going to become a firm favourite on menus across the country," added Henry Franklin, national account manager at Mademoiselle Desserts.