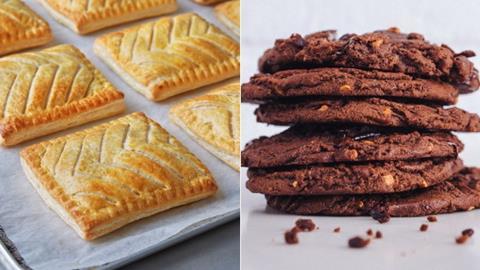 Greggs, Pret and Pizza Express are among companies revealing previously secret recipes to help home bakers enjoy a taste of their favourite dishes while in lockdown.
Here, we've rounded up some of them to satisfy your baking curiosity.
Pret – Dark Chocolate Vegan Cookies
Having been bombarded with tweets demanding the recipe for its Dark Chocolate Vegan Cookies, Pret finally gave people what they were asking for.
The recipe has been published on the chain's website and social media alongside ones for its Dark Chocolate Chunk Cookies, a selection of soups, porridge and cold drinks, as well as advice on creating the perfect sandwich in what Pret has dubbed #SandwichSeminars.
Top tips for sandwiches include embracing the five elements – type of bread, hero ingredient, sauce or spread, crunch and the 'je ne sais quoi' – and assembly to avoid a soggy sandwich.
Dear Cookie Fans,

It's all yours.

Love Pret #PretRecipeBook pic.twitter.com/uplCg9YSVJ
— Pret (@Pret) April 11, 2020
Thomas the Baker – Country Crunch loaf
Yorkshire-based Thomas the Baker has unveiled the recipe for its popular Country Crunch Bread and is selling flour for novice bakers who are unable to get it in the supermarkets.
"The golden rule for good homemade bread is to take your time – a good loaf can't be rushed; it needs time and attention to allow it to prove well to develop flavour and texture.
"Kneading the dough is something that can't be rushed, whether that's in a mixer or by hand, so spending time here is essential," said general manager Simon Thomas.
"And a little secret baker's tip for an excellent homemade loaf – a spritz of water into the oven as you pop the dough in will help to develop a good crust."
Here's what you need to make Country Crunch Bread:
Ingredients
35 g fresh yeast or 7g dried yeast
400ml tepid water
225ml milk
1kg Country Crunch flour
15g salt
50g fat (butter, oil, lard etc.)
Instructions
Pour the tepid water and milk into a bowl, then add the yeast.
Leave the yeast to activate for around 5-10 minutes. You may see bubbles start to appear on the surface of the liquid as it activates.
Add the flour, salt and fat to the bowl then mix to combine.
Either knead the dough by hand or using a dough hook on a mixer for 12 minutes until the dough is smooth and elastic.
Pop the dough back into an oiled bowl then leave to prove for up to 2 hours in a warm place or until it has doubled in size.
Knock the dough back by hand then shape into sausages that fit into your loaf tins. This recipe should make two small loaves.
Leave the dough to prove in the tins for up to 2 hours.
Bake the bread in a preheated 180˚C oven for 25-30 minutes, until the loaves have a golden brown colour.
Remove from the loaf tins and leave to cool – and enjoy!
Greggs – Sausage, Bean and Cheese Melt
Forget DIY, Greggs has coined the term GIY – that's Greggs It Yourself.
With all its stores closed, Greggs is serving up easy-to-follow recipes on Facebook, allowing its fans to enjoy a taste of their famous hot pastries from the comfort of home.
Recipes released so far are the Sausage, Bean and Cheese Melt and the famous Steak Bake.
Pizza Express – Dough Balls
Pizza Express took to Twitter to reveal its coveted dough ball recipe to the masses.
In a series of tweets, the pizza chain outlined the step-by-step process required to achieve dough ball perfection (see below). Since then, the business has offered ways to pimp the dough balls, including stuffing them with bacon and cheese as well as baking them parmigiana style.
Here's what you need to make dough balls:
Ingredients
150ml warm water
1 tsp of sugar
15g fresh yeast
225g of plain flour
1.5 tsp of salt
Extra virgin olive oil
4 tsp of butter
0.5 tsp of chopped garlic
Method
Preheat oven to 230˚C.
Add the sugar and crumble the fresh yeast into warm water. Allow the mixture to stand for 10-15 minutes in a warm place (such as a windowsill) until froth develops on the surface.
Sift the flour and salt into a mixing bowl. Make a well in the middle and pour in the yeast mixture. Lightly flour hands and slowly mix together until they bind. Generously dust surface with flour. Throw down the dough and begin kneading for 10 minutes until smooth, silky and soft.
Leave to rest until soft to the touch but not too springy.
Then, it's ready to roll. Roll dough into one long 1.2m tube. Chop into 16 chunks and place in an ovenproof pan.
Leave dough balls to rest in the pan for 30 minutes.
Bake in the oven for 6 minutes until golden.
For the garlic butter, blend 10ml of olive oil and chopped garlic into a paste then pour over the butter and blend with a spoon.