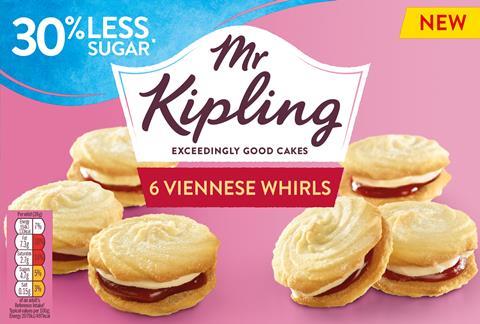 Premier Foods is extending its Mr Kipling reduced sugar range with Viennese Whirls.
Featuring a shortcake swirl filled with raspberry jam and crème filling, they contain 30% less sugar than their counterparts in the standard Mr Kipling range. Each reduced sugar whirl has 4.7g of sugar and 133 calories per 26g treat compared to 7.5g of sugar and 140 calories per 28g original whirl.
The whirls will be available in stores from 26 December with an rsp of £1.89 for a pack of six.
They join Mr Kipling Angel, Chocolate and Lemon slices in the reduced sugar range, following their launch in February 2019.
The new addition will broaden the appeal of Viennese Whirls by attracting new shoppers, according to Premier Foods which said that reducing sugar intake was the 'number one priority' for shoppers. However, it added, suitable options in the market remain limited.
"Consumers are increasingly concerned about their sugar intake. Within the cake category, our Mr Kipling 30% Less Sugar range helps consumers to address this, allowing people to enjoy sweet treats responsibly from time to time," said Mathew Bird, brand director for Sweet Treats at Premier Foods.
It comes as a survey of the European bakery industry by Tate & Lyle revealed that foods with reduced sugar and calorie options were the 'biggest driver of business growth'.