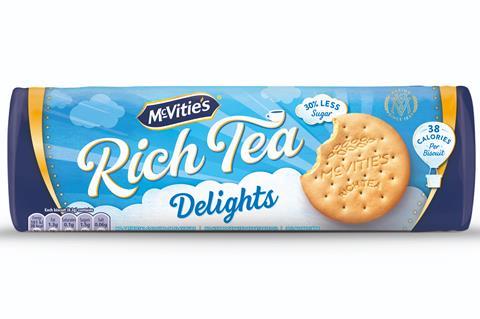 Pladis has launched Rich Tea Delights, a lighter version of the McVitie's classic containing 30% less sugar than the typical semi-sweet biscuit according to the manufacturer.
The NPD marks the start of a 'pipeline of innovation' from McVitie's, said Pladis, with the brand looking to build on its Rich Tea product which, according to Nielsen figures, was worth £31m in the last year.
Rich Tea Delights will sit outside of upcoming regulation on the promotion of HFSS products, according to Pladis, meaning their in-store position will not be restricted and they can be used to signpost the biscuit fixture at end-of-aisle.
The reduced-sugar recipe for the new biscuit will not include any artificial sweeteners, Pladis added.
"We're excited to be bringing a product to market which caters to evolving shopper needs and a nationwide focus on health, while retaining the great taste that's synonymous with McVitie's," said David Titman, marketing director – McVitie's at Pladis UK&I.
"Now, whether shoppers are looking for an indulgent treat or something a little lighter, it'll be even easier for them to enjoy McVitie's biscuits as part of a balanced diet. This launch will also show shoppers they don't need to forego the biscuit aisle entirely in a bid to choose lower-calorie options," Titman added.
The Rich Tea Delights packaging incorporates the colour and font cues of the parent product, while front-of-pack flashes emphasise the McVitie's brand and highlight the product's 'healthier' profile.
"In 2020 we announced that we'd reduced sugar in nine of our biscuit tin favourites, including McVitie's Chocolate Digestives and McVitie's Chocolate Hobnobs, and now, we're going one step further with an extension to the McVitie's range that will give consumers even more choice in the biscuit aisle," Titman said.
McVitie's Rich Tea Delights are available in 300g packs across multiple retail, convenience and wholesale channels with an rsp of £1.59. Packaging will be recyclable through the manufacturer's partnership with Terracycle, Pladis said.