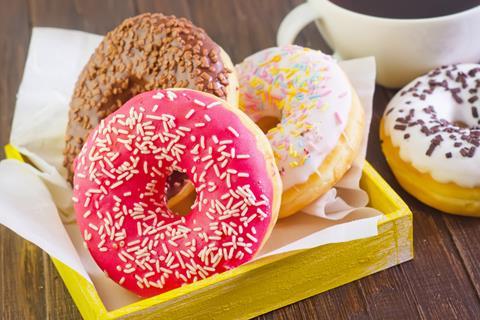 Nearly half of business are unprepared for forthcoming legislation curbing in-store promotion of foods high in fat, salt or sugar (HFSS), according to new research.
The study, commissioned by global standards organisation GS1 UK, also found that 20% of businesses were unaware of the changes to the law altogether.
The legislation, due to be implemented from 1 October 2022, will restrict store promotions of HFSS products by location and volume price. Location restrictions apply to store entrances, aisle ends and checkouts, as well as their online entry pages, landing pages for other food categories, and shopping basket or payment pages.
In addition, volume price rules will prohibit retailers from offering promotions such as 'buy one, get one free' and 'three for two' offers on HFSS products. However, the GS1 survey found 70% of businesses were unaware that volume promotions will be banned.
The legislation was originally due to come into effect in April 2022, but a six-month delay was agreed in June 2021 to allow businesses to adapt. However, only one in three businesses have assessed their products ahead of the October implementation date, with only 48% reformulating existing products and around one quarter having not even considered it.
The study also revealed that just 33% of businesses are training staff on the new rules and only 35% are auditing suppliers. Two-thirds said that more financial support from the government would be needed to help them adapt, with 81% saying the new rules will significantly change how they operate.
"It's worrying to see that businesses across the food and drink industry do not feel prepared for the upcoming changes in legislation," said Tim Lang, professor emeritus of food policy at City University of London's Centre for Food Policy. "Whilst the changes will no doubt affect how countless businesses operate, the new legislation is a crucial step toward solving issues around public health."
In addition to the new rules regarding store promotions, restrictions on advertising HFSS foods are due to come into force from 1 January 2023. The changes to the law form part of the UK government's mission to tackle childhood obesity, and the GS1 research suggests that the majority of consumers approve of the action.
According to the survey, 68% of shoppers said they agree with the legislation, and nearly half stated it would help them think more about which products to buy. However, just over half (51%) said they would mis 'buy one, get one free' offers on HFSS.
The study found 66% of businesses also recognised the need for regulation to curb unhealthy eating.
"Placing restrictions on unhealthy food promotions in-store is one way of helping to transform our food system and save lives," said Sonia Pombo, campaign manager for Action on Salt. "Rebalancing the cost of producing healthier versus less healthy foods will drive further innovation and recipe improvements, to build a healthier, more equitable nation. The food industry should fully understand their influence and direct responsibility."