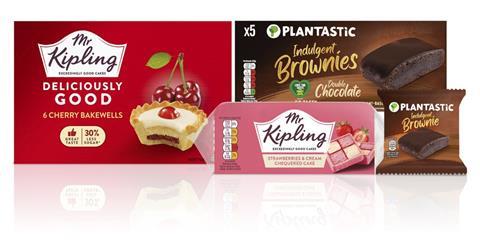 Premier Foods continues to expand its branded ranges of sweet treats with the introduction of new tart, cake, and brownie lines.
The bakery manufacturer, which back in July promised no more price hikes for the rest of the year, unveiled Mr Kipling Deliciously Good Cherry Bakewells, Mr Kipling Strawberries & Cream Chequered Cake, and Plantastic Indulgent Double Chocolate Brownies.
Each new product is said to appeal to a different type of customer – the Bakewell tarts providing a healthier alternative, the brownies a plant-based option, and the chequered cake a moreish extravagance, it said.
Premier Foods noted that healthier cake was performing well with the sector now worth £96m per year, according to Circana data for the 52 weeks to 2 September 2023. As the latest addition to its Deliciously Good range of better-for-you products, the Cherry Bakewells present a 30% less sugar version of one of "Mr Kipling's best-loved recipes", which it claimed to already be purchased by one in five households. They come in packs of six with an rsp of £3.
The Mr Kipling core range, meanwhile, was expanded with a Battenberg-style loaf cake (rsp: £2.50) that featured a popular flavour combination and excluded the marzipan, which consumer insight had found could be a barrier to purchase. Instead, cream flavoured sponge and strawberry jam is encased in a strawberry flavour paste.
Lastly, Premier Foods is increasing its vegan-friendly offerings with new brownies from its Plantastic brand. Comprising a cocoa brownie studded with dark chocolate chips and topped with velvety choc, they are available in multipack (rsp: £2.25 | pack of five) or single slice (rsp: £1.25) formats for at-home indulgence or on-the-go snacking.
"Plant-based flapjacks and brownies are both popular with younger cohorts, making the Plantastic propositions the perfect sweet treat to appeal to these consciously minded consumers, who don't want to compromise on taste," said Plantastic brand director Katherine Cook.