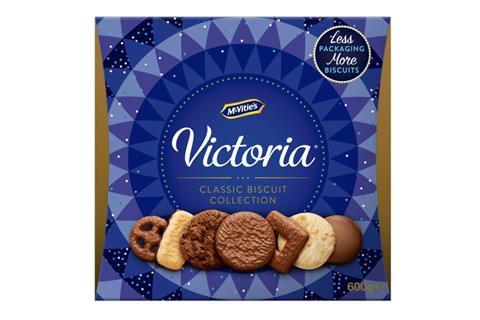 Pladis-owned McVitie's has repackaged its Victoria biscuit assortment in a bid to improve its sustainability credentials in time for Christmas.
The new packaging sees the traditional black plastic tray on the inside swapped for a cloudy plastic alternative which McVitie's said is fully recyclable and will save 60.5 tonnes of plastic from landfill annually. The cardboard outer has also been downsized, saving 129 tonnes of card every year.
It comes alongside a 'new, modern' look for the Victoria selection boxes which house a selection of McVitie's milk, dark and white chocolate biscuits as well as festive favourites such as the Fully Coated Chocolate Digestive and Milk Chocolate Shortcake. They come in 300g, 600g, 825g and 1.2kg fully recyclable boxes with rsps ranging from £3-£12.
"Shoppers are increasingly concerned about how their food choices impact the planet and as Britain's biggest biscuit brand, we recognise that we have a crucial role to play in making sustainable options widely available," said Jonathan Bull, head of McVitie's commercial & seasonal brands at Pladis UK&I.
He added that Pladis is continually taking steps to improve its sustainability credentials, with packaging for many of McVitie's products recyclable through a partnership with TerraCycle.
"The good news is that in addition to reducing packaging for McVitie's Victoria, we're actually increased the number of biscuits in our 550g box, and we've added a 'Less Packaging More Biscuits' flash onto our now-600g pack. This will help to reassure shoppers that a reduction in packaging doesn't need to mean fewer treats."
Packaging, in particular plastic, has moved up the agenda for bakery businesses in recent years as they look to reduce the amount of plastic they put on the market. Pukka, for example, rolled out plastic-free packaging in January, while fellow pie brand Pieminister made its packaging plastic-free and fully recyclable in June 2019. Roberts Bakery has also transitioned to paper packaging.