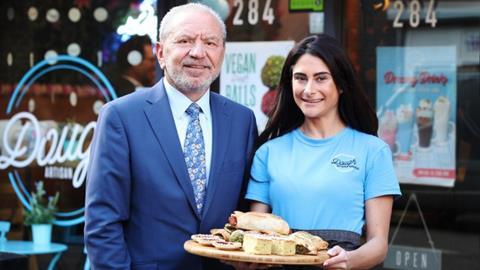 Carina Lepore of Dough Bakehouse, winner of last year's The Apprentice, has launched a vegan range.
The vegan line-up comprises: a sourdough loaf (featured in the final episode of The Apprentice); a variety of rolls, including sage, onion or luxury; banana cake; chocolate brownie and energy balls. The products rolled out this week.
Lord Alan Sugar, who has invested £250,000 in the business following Lepore's TV win, visited Dough Bakehouse this week to taste the sweet treats and savoury pastries that were made on site by Lepore's father Carlo.
"Carina and I are delighted Dough Bakehouse continues to go from strength to strength. We're really looking forward to opening new premises in the near future, continuing to expand the business," said Sugar.
He joked he'd be sending some to Piers Morgan – who has mocked the rise of vegan diets.
Based in Herne Hill, family-run Dough Bakehouse was founded by Lepore in 2018. Every morning, Lepore's father Carlo freshly bakes the products on site.
"After winning The Apprentice it means so much to have Lord Sugar's backing in a family-run business with big ambitions," said Lepore.
"We pride ourselves on being across on the latest food trends, so we are really excited to bring our new vegan range to our customers."