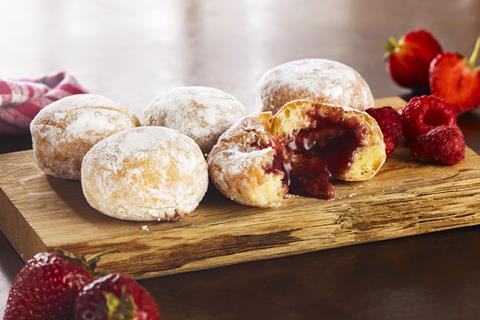 Calorie legislation and pressures on disposable income are posing particular risks to out-of-home dessert and sweet bakery consumption, recent research has found.
Sweet bakery manufacturer Mademoiselle Desserts commissioned CGA by NIQ to conduct a survey on the buying behaviour of 2,000 UK consumers, publishing a report to summarise findings. This was aimed at helping its foodservice customers navigate the market challenges arising from the cost-of-living crisis and the new calorie legislation.
The latter is a requirement which came into effect in April last year and sees restaurant groups employing over 250 staff in the UK having to clearly display calorie counts for each menu item along with the statement 'adults need around 2000kcal a day' on every page.
The desserts course appeared to take the hardest hit from the calorie count introduction to menus, with a quarter of survey respondents (25%) saying they were now ordering desserts less often, compared to 15% for starters and 13% for mains.
Meanwhile, in separate research from CGA by NIQ published in its Food Insights Report 2023, the cost-of-living crisis was found to have caused 18% of those interviewed to cut down on the number of courses ordered during an meal – starter (40%) was marginally ahead of dessert (35%) as the course to be dropped.
Mademoiselle Desserts' head of category insights & customer marketing, Anthony Saison, noted that the aforementioned challenges "inevitably forced customers to compromise on either the quality, the quantity, or the frequency of their eating out experience, sometimes all of these aspects at once".
When asked what they associated value for money with, 41% of consumers surveyed put 'good quality', with 'a good deal' close behind on 39%, and 'quality ingredients' also ranking highly. Cheaper and healthier options were deemed far less important for consumer's idea of value of money, according to the research.
"Something our research clearly highlights however is that the need for indulgence and quality remain at the main considerations," added Saison. "Desserts offer indulgence and are a high margin category, so operators should find ways to keep consumers engaging with the category out of home on a regular basis."
Mademoiselle Desserts highlighted one of the best ways to achieve this was via miniature versions or small-format desserts that help "strike the perfect balance between quantity, quality and good value delivery".
These small-format desserts were said to be highly versatile and perfect for different channels, day parts and occasions, including as part of a deal combo with a drink. Additionally, mini assortments give consumers more the opportunity to try more varieties.
The Mademoiselle Desserts Group is headquartered in Montigny-le-Bretonneux in France and operates 12 bakeries across France, the UK, the Netherlands and Belgium supplying sweet treats to a variety of foodservice and retail customers. It's UK arm is one of just a handful of British bakeries that have achieved B Corp status.