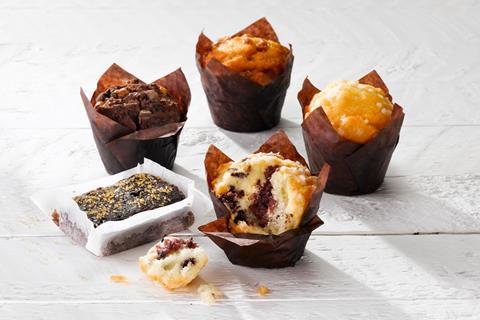 Dawn Foods has added a range of frozen gluten-free sweet bakery items to its product line-up.
The new offerings, which include filled muffins and a chocolate brownie, are made using Dawn's gluten-free mixes and fillings in a gluten-free environment. Each item is supplied frozen and individually wrapped in printed film with full nutritional information.
The Double Chocolate Filled Muffin from the range is made with Belgian white and dark chocolate chunks and filled with chocolate sauce, while the Lemon Filled Muffin has a zesty filling and a sprinkling of sugar nibs.
The line-up also includes a Caramel Muffin, with salted caramel fudge pieces and a sweet caramel filling. Completing the selection of muffins, which all come in cases of 12, is the Mixed Berry variety, featuring blueberry flavoured cranberries in a berry and vanilla flavoured muffin, finished with a raspberry injection and sugar nibs for added texture.
Dawn's frozen gluten-free Chocolate Brownie, meanwhile, is filled with Belgian dark chocolate chunks and sprinkled with demerara sugar.
Jacqui Passmore, marketing manager UK and Ireland at Dawn Foods, believes the new products represent "a real opportunity for bakers to expand their range and gain more customers".
Passmore highlighted Coeliac UK research that found 10% of UK consumers now claim to follow a gluten-free diet whether for health or lifestyle reasons, as well as Mintel data showing the gluten-free market to be worth £416m and estimated to grow 6.2% by 2025.
"Consumers are keen to choose gluten free bakery products which taste just as good as their regular counterparts," she said.
"Bakers now have the choice to use Dawn's gluten free bakery mixes to create their own seasonal or signature products or buy in Dawn's new gluten free muffins and brownie which are not only ready to thaw and serve, but available in flavours that their customers will love," Passmore added.