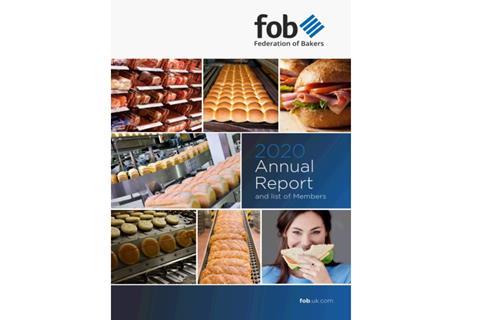 This year's annual report from the Federation of Bakers (FOB) is available now.
The trade association's annual report comes at a time when the bakery industry is dealing with "unprecedented times" due to the Covid-19 pandemic.
Despite consumer purchasing reducing to normal levels from the height of 'panic buying' in March, bakers are still having to cope with very different working arrangements and a possible significant market change, said Mike Roberts, chairman of the FOB.
In March alone, supermarkets sold an extra 56.7 million packs of bread and other baked products compared with the same period in 2019, according to The Grocer.
"As the providers of an essential staple product, in a crisis such as this we are fortunate to be able to work and to be very busy. My thanks go to everyone in the bakery industry who has worked so hard to ensure that bread and bakery products were always available on the shelves of all retailers, large and small," he added.
Part of the FOB's role is to challenge on behalf of its members. For example, PHE's proposed 5.5% reduction in salt for bread and 10% for morning goods by 2023, added chief executive Gordon Polson.
In response to Covid-19, the FOB had to cancel its Annual Conference in June, now scheduled for 9 June 2021.
Here are some key highlights from the report:
Industry issues include: Food waste reduction; the post-Brexit transition; sugar reduction in morning goods; calorie reduction in HFSS (high in fat, salt or sugar) products; restrictions on promotions of HFSS products; salt reduction; the regulation of acrylamide in products; sustainable packaging; the fortification of flour with folic acid; and allergen labelling consultations.
This year, the FOB is working with the British Dietetic Association to educate its 9,000 members and 1 million consumers about the nutritional value of bread.
Ingredients supplier ABIM has drafted a sourdough Industry Code of Practice to address concerns regarding the marketing, description and labelling of sourdough.
FOB has introduced a new set of codes, to identify which products are manufactured by each bakery company.
"With the safety of our workforce upmost in our minds, we effected a re-engineering of our plants and HR processes to provide necessary precautions and protections against the spread of the virus," said Brian Irwin, chairman of Irwin's Bakery, on behalf of the Northern Ireland Bakery Council (NIBC).