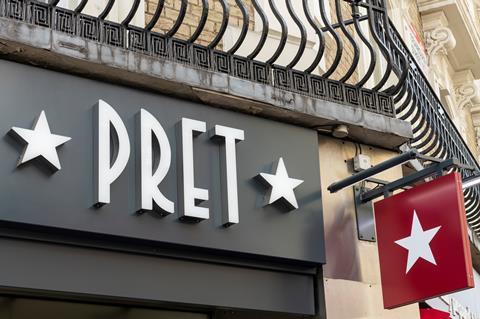 Pret is making its second staff pay increase this year, with all shop and service centre workers receiving a 5% rise.
Pret said the increase, which is being introduced on 1 December, will mean its 8,600 shop staff will see an average baseline pay increase of 13% within a year, above the current rate of inflation.
Shop staff and baristas working 35 hours a week will have the potential for an annual increase of up to £900 and £1,000 respectively following the increase, which comes as retail and hospitality businesses struggle to attract and retain staff.
The 5% pay increase will be applied to shop employees regardless of age, although some differences may apply depending on role, experience and location:
Team member pay will increase from between £9.80 and £11.00 an hour to between £10.30 and £11.55 depending on location. With the 'mystery shopper bonus', given for a limited time to workers who score highly in mystery visits, this could rise to between £11.55 and £12.80 an hour.
Barista pay will increase from between £10.30 and £11.90 an hour to between £10.85 and £12.50, depending on location and experience. With the mystery shopper bonus this could rise to between £12.10 and £13.75.
Pret said the new increase would be a £10m investment and follow a £9.2m investment in pay rises made by the business in April.
"With the rising cost of living putting increased pressure on our people, we wanted to do more to support them, and to say thank you for continuing to go above and beyond for our customers," explained Pret interim managing director Guy Meakin.
"This will be the second year in a row we will have introduced a second pay rise in the same year for our employees, and we're proud to be leading the industry on barista pay. We aspire to always be a top employer, with all our employees earning well above the National Minimum Wage irrespective of age."