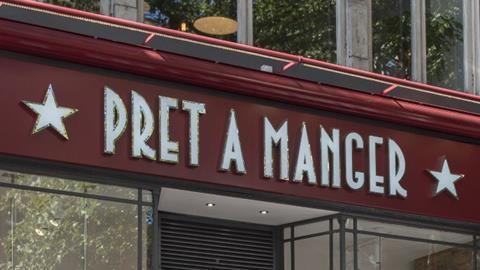 Pret A Manger is to restructure its business because of the impact the coronavirus outbreak has had on cashflow and costs.
As a result, 30 shops across the UK will close permanently in the second half of 2020, and the company is to cut the size of its support teams and shop staff across its remaining UK sites to reflect lower levels of demand. A consultation has started this week.
Year-on-year sales in Pret's UK shops are currently down 74% year on year. The company said it was experiencing a much slower recovery in the UK compared with other countries it trades in.
Pret has 410 shops in the UK, 339 of which have reopened.
The business is also looking to sell the lease on its main office in London and has brought in external consultants Alvarez & Marsal and CWM to complete an estate review and resizing programme, working with landlords to ensure the continuation of as many of its UK shops as possible. Discussions with landlords across the Pret estate over a more sustainable leasehold model are ongoing.
"When the coronavirus crisis hit, we said our priority was to protect our people, our customers and, of course, Pret," said Pret CEO Pano Christou.
"Although we were able to do that through the lockdown, thanks in particular to the government's vital support, we cannot defy gravity and continue with the business model we had before the pandemic."
Christou added he was devastated that the business would be losing so many employees.
"These decisions are not a reflection on anyone's work or commitment. But we must make these changes to succeed in the new retail environment."
Pret is looking to reshape its business model through new sales channels. In recent weeks, it has launched retail coffee in Amazon and broadened its delivery and online presence with Deliveroo, Just Eat and Uber Eats, as well as launching click-and-collect trials in five shops in London.
The company said sales through delivery services had grown 480% year on year, and now represented more than 8% of total UK sales.
Pret also plans to launch further innovations, including an evening delivery menu to be trialled from seven shops and a new hub kitchen in north London.
"While Pret may look and feel different in the short term, one thing I know is that we will come through this crisis and have a bright future if we take the right steps today," said Christou.