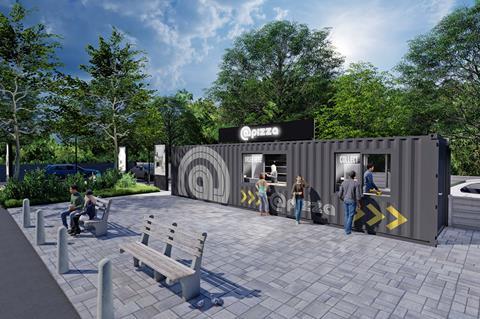 Restaurant @pizza has raised more than £1m through crowdfunding to expand its offering by adding drive-thrus in Edinburgh and Birmingham.
The new units will be semi-permanent and situated in areas with high traffic density, such as suburban carparks, to drive growth with hopes to expand the concept across the UK. @pizza described the format as 'highly-scalable, low-cost business and operating model'.
Restaurants will include counter based dine-in, contactless takeaway and home delivery options suited to the post-lockdown world, it added.
The first two drive-thrus will be added to its existing restaurant clusters in Edinburgh and Birmingham. Once established, it plans to expand further around the UK to develop 4-5 new clusters in the next stage of expansion.
Its initial fundraising target of £820k was surpassed in just six hours and is now sitting at £1.01m as of 7 October with 17 days left to go.
"We're thrilled to have secured a site on the pedestrianised section of Edinburgh's Royal Mile, the busiest street in Edinburgh. Our fast-paced service and excellent quality is perfectly suited to the needs of consumers in this location. We'll be offering convenience and flexibility to enjoy pizza exactly how you want it in this prime location," said Rupert Lyle, co-founder of @pizza.
Investors can own a share of @pizza for a minimum of £10. Every investor will earn lifetime rewards, including free pizza on their birthday.
The fundraising round takes the form of an equity crowdfund through Crowdcube. Investments will grow by 10% per annum and will be repayable in 36 months, @pizza said. If a further funding round takes place within 36 months, the investment will be convertible at a 25% discount to the prevailing share price being offered.