A trio of craft bakeries are shaking up the scene with new retail offerings.
These up-and-coming bakery businesses have opened new sites in England and Wales, serving up a range of bakes from vegan cakes and Greek pies to South African bread and Jerusalem Bagels.
Here's what they're up to: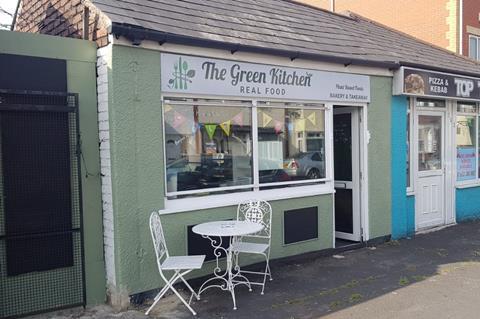 The Green Kitchen, Newport
Focusing on vegan bakes, The Green Kitchen has opened its first retail site on Cromwell Road in Newport, Wales.
The menu features toasties, pancakes, pies, pizzas, sausage rolls, bread and cakes.
"The coronavirus delayed the shop opening for about three months. We had to cope with the fixed costs of running a business without revenue. At the moment, I'm by myself at the shop, but my family has been very supportive and helpful, lending a hand here and there whenever they can," said owner Patricia Mellor.
The vegan bakery's bestselling products are pizza cups, sausage rolls, merandas (a 'ham' and cheese baked sandwich), as well as carrot cakes and pasta bakes.
To help manage Covid-19, The Green Kitchen is equipped with a sanitizing station, small hatch for orders and sneeze guard.
"I thought, high-quality, attractive plant-based foods at affordable prices, would help others make the transition [to veganism] more easily," Mellor added.
All the bakery's packaging is 100% biodegradable and made from plants.
Mellor hopes to expand in the future and is building a business model scaled to serve more communities. She hopes to develop a client base of businesses that are interested in offering high-quality vegan alternatives in cafes, restaurants and shops.
Hellenic Bakeries Herts, Hertfordshire
The Greek bakery has opened its first shop in Bishop's Stortford, Hertfordshire.
Hellenic serves bread, traditional pastries such as spinach pies and cheese pies, sandwiches, cakes, cookies, brioches and macarons. The team has recently added gluten free variants to the menu.
The shop was founded by Anastasia Giannopoulou and her husband Thanos Papanaklis. Despite having over 20 years of experience as business consultants, the couple wanted "a more social and active job".
"We wanted to bring Greek patisserie to the area. Greeks love their food and we put so much attention into everything we cook because it's the way of living for us, so our desserts and pastries are a little bit more special," said director Anastasia Giannopoulou.
The team is Covid-19 conscious, and wear masks and gloves in the shop. In addition, they clean and disinfect surfaces at regular intervals, such as the till and card machine. Spare masks and antibacterial gel are provided for customers and only five visitors are permitted in the shop at any given time.
Hellenic has created 10 part- and full-time jobs, including sandwich makers, bakers, baristas and hospitality staff.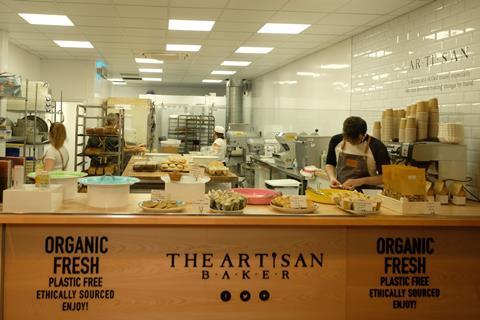 The Artisan Baker, Gloucestershire
Known as The Artisan Baker, chef Ori Hellerstein has launched a bakery of the same name.
Based at Five Valleys Market in Stroud, the bakery and store offers organic breads, savouries and cakes from all corners of the world.
Best-selling products include The Nelson Loaf, a South African seeded bread named after Nelson Mandela, as well as sourdough and walnut bread. Its popular Jerusalem Bagels are long and oval shaped with sesame seeds on top. Unlike other bagels, they aren't poached before baking.
Hellerstein has transformed the largest unit at Five Valleys into a professional kitchen and shop.
"Everyone has worked so hard to get the shop and kitchen ready for our customers and we can't wait for our customers to see the finished look – and of course taste our products. We're excited to be growing our businesses here as part of the Five Valleys Market alongside so many other great local businesses," he said.