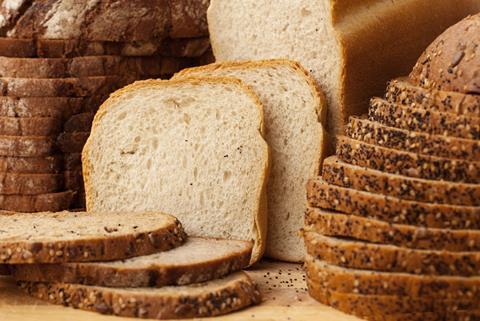 Campaign group Action on Salt is calling for mandatory salt reduction targets after its latest research found that some slices of bread are saltier than a bag of crisps.
The research analysed salt levels in 242 packaged pre-sliced loaves split into seven different categories – sourdough, rye, white, both, wholemeal, multi-grain/granary, and seeded. Eighty-nine of the loaves were branded with Warburtons, Hovis, Bertinet Bakery and Kingsmill in the mix, alongside 153 retailer own-label ones.
Average salt content across those analysed was 0.9g per 100g and 0.39g per slice (see table below).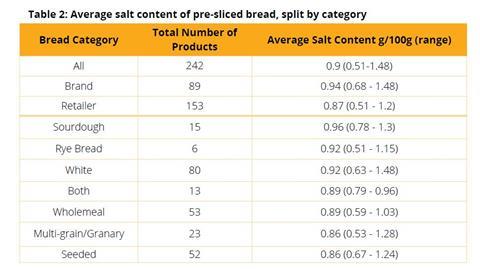 Notably, the majority of breads analysed fell below the 2024 maximum salt target of 1.01g per 100g as set by the Department of Health and Social Care in 2020. What's more, the report noted that previous research suggests salt content in bread has been reduced by 8% since 2011.
However, Action on Salt said the large variations seen in the category mean the targets are 'far too lenient' with scope for further reductions.
Hovis White Loaf with Starter Dough was found to be the saltiest loaf with 1.48g of salt per 100g making it nearly three times saltier than the lowest, which was Waitrose Rye & Wheat Dark Sourdough Bread with 0.51g per 100g.
As such, the group said even small reductions in the average salt content of bread would help improve the UK diet, with a 6% reduction equating to the removal of 926 tonnes a year.
"Bread is the single biggest contributor of salt to our diets and therefore even the smallest of reductions in salt would go a long way for our health," said Sheena Bhageerutty, assistant nutritionist at Action on Salt. "This is why we urgently need companies to double down their efforts to reduce salt further and make salt reduction a priority."
Federation of Bakers response
The Federation of Bakers, which represents the majority of plant bakers in the UK, said it was glad to see the report recognises that much of the bread falls below the 2024 maximum salt target.
"Overall, the bread and bakery category has been very successful in reducing the amount of salt in bread," said chief executive Andrew Pyne. He stated that over the past decade the industry has achieved up to a 30% reduction in salt, to a level of less than 1g of salt per 100g of bread.
"Whilst the industry continues to do all it can to minimise the amount of salt in bread, it is important to note that salt is added to bread to improve texture, flavour and enhance its keeping properties, which is why further reductions are very challenging for the bread industry as salt has a significant technological role in bread-making," he added.
Pyne also noted that the UK has one of the lowest levels of salt in bread in the world highlighting that only four EU member states have to date implemented national salt legislation.