"We're really excited for HFSS," exclaimed Border Biscuits managing director Paul Parkins at a recent media briefing for the brand in which he revealed a £190m opportunity in the category.
They're bold words considering recent research shows nearly half of businesses are unprepared for the forthcoming legislation, which is due to be implemented from 1 October 2022, and some have warned that many businesses could be negatively impacted by its introduction.
Not Border Biscuits though, as Parkins believes the legislation is targeting "mindless munching" accommodated by everyday biscuits while brands in the "accessible premium" sector, such as Border, will "gain net space" amid category reductions. "The health end and the premium end is where people want to invest in these moments," he added.
The Scottish firm has unveiled a new positioning and brand identity, new packaging formats and NPD which will be supported by a £5m brand investment to help it grab a slice of the opportunity.
A Dark Chocolate Orange biscuit (rsp £1.85) and bar (£1.75) are being added to its range alongside a Dark Chocolate Raspberry biscuit (rsp £1.85). They will hit the shelves this month with the new packaging rolled across the wider portfolio in April.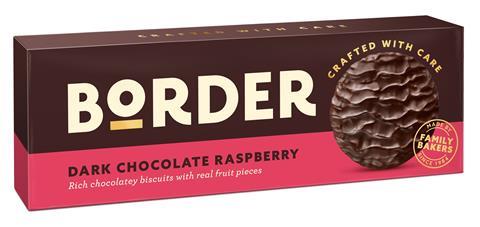 "We've identified a real opportunity for Border Biscuits to lead the accessible premium category," Parkins said. "We're already outperforming the market in a growing category, and the brand repositioning will help retailers benefit from increased sales in the accessible premium category."
Border Biscuits also revealed significant capital investment which will see it add a new line to its production facility and extend the two lines already in place over the next two to three years. "We are increasing capacity with and without capital," added Parkins. "The staff numbers have gone from 175 to 225. That's bringing in another night shift, so the business runs 24/5 plus weekends."