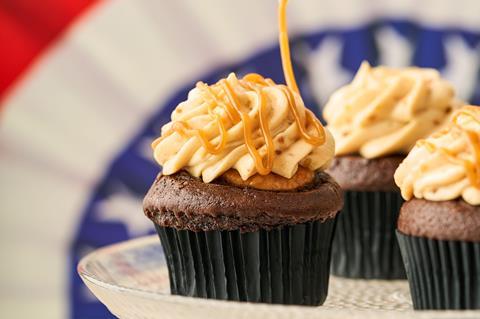 Dawn Foods is adding a New York-style cheesecake mix and a peanut butter to its American Bakery range.
The business said its new cheesecake mix is suitable for the creation of baked cheesecakes as well as other desserts. Made with natural flavours, it is gluten free and comes in 2.5kg packs.
A New York-style cheesecake is typically richer and more indulgent than European baked cheesecake and uses a cream cheese base to give a creamy cheesecake.
Dawn said that, although it seems a simple recipe, New York-style cheesecake can be challenging to make from scratch as it requires a gentle baking process to avoid over or under cooking and it can be difficult to avoid cracking on the cheesecake surface.
In contrast, explained Dawn, its mix simply requires bakers add cream cheese and water to the mix and beat until smooth. The prepared mix can then be added to a base and the cheesecake baked for 50 to 60 minutes before cooling.
Dawn added that the new mix is versatile and that bakers can create signature cheesecakes by experimenting with different shapes, toppings and inclusions.
The business has also launched Dawn Balance Crunchy Peanut Butter in 3kg packs to tap consumer interest in American sweet bakery products and plant-based ingredients.
Dawn said peanut butter can be used in many different baked and unbaked applications, to add texture and the distinctive creamy taste of peanut to products.
The supplier added that peanut butter cuts through sweet flavours and pairs well with a strawberry filling for the classic peanut butter and jelly American flavour.
"The peanut butter market is growing fast with the product's nutritional benefits helping to drive the market", explained Jacqui Passmore, marketing manager at Dawn Foods UK and Ireland.
"Crunchy peanut butter is particularly popular with younger consumers who wish to up their protein intake. Using peanut butter in sweet bakes means bakers can offer indulgent treats which are also perceived by consumers to be 'better for you'."
Dawn's American Bakery range made its debut last month with the launch of a blondie mix, and comes as American flavours and products are tipped to play a big role in the UK bakery market in 2023.