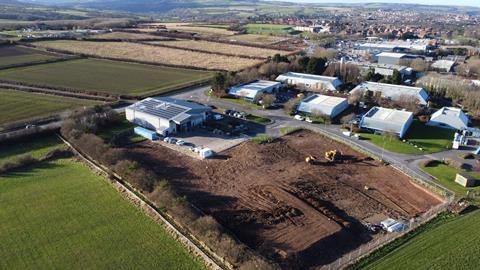 Botham's of Whitby is to build a new purpose-built bakehouse after outgrowing its current Skinner Street site which it has occupied for 160 years.
The North Yorkshire Bakery, which moved its wrapped goods production to Whitby Business Park in 2000, announced it would now extend the Enterprise Way site and hoped to move operations there "within the year".
Botham's was originally built as a shop and tea rooms in the 1800s before the family began developing behind the property to include a bakehouse which currently produces its bread and cakes.
The new bakery will be approximately 1,640 square metres which includes the bakery, shop and tearoom – plus offices and storage on mezzanine floors.
At present, the bakery lines will be as they stand now, with a natural evolution of some products, the business said, with new products added in the future.
"The bakery continued to evolve in stages, and, as such, the bakehouse is now on multiple levels connected by a network of stairs, ramps and an aging central lift – which is crucial to production," said managing director Jonathan Botham.
He added that the move will help streamline production and that to be all on one level will be a "game-changer".
"The new bakery at Enterprise Way will enable us to radically change production, advance with technology and replace vital machinery without the 'how-on-earth-do-we-get-that-up-the-stairs," he added.
The great-grandson of founder Elizabeth Botham added the move would result in a reduction in large vehicle deliveries to Skinner Street, which is narrow and one-way, as well as help the business "to improve efficiency, save both time and energy, and grow the business".
Botham's operates five local shops in Whitby, Sleights and Pickering. Its Skinner Street tea shop and rooms will also remain.
Lois Borrett, director and great-great granddaughter of Elizabeth Botham said the new bakehouse was "about enterprising to secure a future for the business as a whole".
"We are a family business for families, by lots of definitions: our shops and tea rooms are enjoyed by families near and far; our mail order hampers are delivered to friends & families nationwide and the pandemic reminded us about how important these deliveries can be with so many of our Care Packages being sent.
"We supply lots of other local, family-run businesses and outsource work locally were possible, we employ local people and, as such, we often have times when we have several generations of one local family working for us at one time."
The bakery is famous for its Whitby Lemon Buns, Yorkshire Brack, Plum Bread, Shah Ginger Biscuits and Chocolate Japonaise Japs. Strawberry Tarts, Winter Brack and Easter Simnel Cakes are also among the other bakery items it produces.