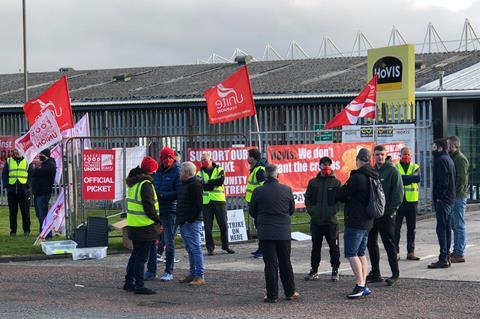 Bakery operations at Hovis' site in Belfast are being disrupted, the business has confirmed, as a strike over pay continues with no end in sight.
As such, bread supplies to Northern Ireland and the Republic of Ireland may be impacted, it added. However, Hovis has insisted that these are temporary and will not affect the rest of Great Britain.
"This is obviously not something we want and we will do what we can to resolve the strike action but this has to be in a sustainable manner for the long-term future of the business and our ongoing relationships with our customers," a spokesperson said.
Members of Unite the Union and the Bakers, Food and Allied Workers Union, went on strike at 6am on Friday 14 May following a dispute over salary. The employees demanded pay parity with their counterparts in Great Britain which equates to a 10% pay rise. Hovis countered with an "above inflation" rise of 3%, which was rejected, noting that the increase demanded was "unsustainable".
At the time of writing, the strike was ongoing and a Hovis spokesperson said the response from its recent contact with the unions suggests "we are still some way from concluding this".
The spokesperson said the firm remains "disappointed" that the unions would not put to vote the 3% pay rise each year for two years to its members and stands by "the fact that this was a fair and reasonable offer given the current market conditions".
Nevertheless, they added that Hovis was committed to finding a resolution that is acceptable to both sides.
Rock solid picket lines
Sean McKeever, regional officer for Unite, believes Hovis' management "totally misread" the determination of these "frontline essential workers".
"Entering the fourth day of this strike action, the socially distanced picket lines remain rock solid, 24 hours a day. These workers are determined to win their objective of pay parity with Hovis workers in Great Britain – and that means a 10% pay increase.
"With reports mounting that Hovis bread products are missing from shelves in supermarkets and retail stores across Northern Ireland, we are calling on management to see sense and address their employees' demands. Continued failure to do so will mean that the bread shortages will extend further in coming days. These workers are organised and they are not going anywhere."