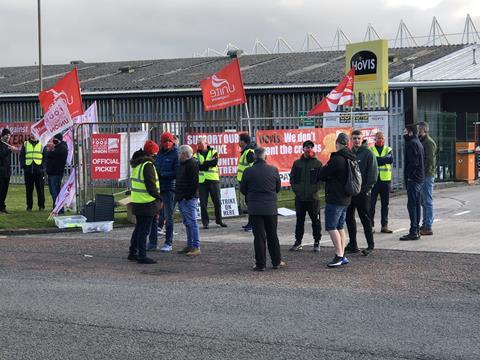 Employees at Hovis' site on Apollo Road in Belfast are to return to work following an 11-day strike over pay.
Having previously rejected offers put forward by management, union members voted 'overwhelmingly' with 79% in favour of the latest pay offer which will see them receive a 4% increase per year for two years, with the first increase backdated to January 2021.
As such, members of Unite the Union and the Bakers, Food and Allied Workers Union (BFAWU) will return to work tomorrow (Tuesday 25 May) at 6am.
"This pay dispute has caused significant disruption to our customers and end-consumers which is deeply disappointing but we are pleased that our Belfast team can now get back to work," a Hovis spokesperson said.
Sean McKeever, regional officer for Unite said the result was a "huge victory for these workers". "I wish to congratulate our members and those of the Baker's union for their stand and their unity in pursuit of the demand for a fair pay increase; this demonstrates the benefit of collective organisation and a preparedness to take militant industrial action," he added.
The strike began at 6am on Friday 14 May as members from the unions demanded a 10% pay rise to ensure parity with their counterparts in Great Britain. Discussions broke down on 18 May with the Labour Relations Agency (LRA) brought in to help reach an agreement.
Following the industrial action, the LRA will also be conducting an industrial relations audit to address what the unions described as 'wider workforce issues of concern'.
McKeever said the strike "reflected the total failure on the part of management" who underestimated their own workforce.
"As a result of this entirely avoidable strike action, not a single loaf of bread was baked in 12 days, and supermarket and retailer shelves have been left bare of Hovis bread as well as a variety of bread products made by these workers, including bagels and pancakes."