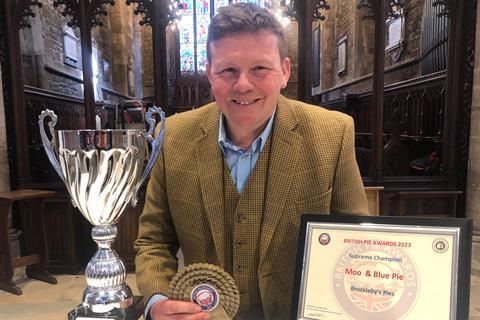 A Steak, Ale & Stilton Pie from Leicestershire-based Brockleby's Pies has been declared the Supreme Champion at the 2023 British Pie Awards.
The business had already beaten 60 other contenders to win the Hot-Eating Savoury Pie category with its Moo & Blue Pie before the product was given the top honour at the event.
Based in Melton Mowbray, which coincidentally is where the awards are held, Brockleby's is owned by the Jalland family that has been farming in and around Melton Mowbray for over 500 years.
Originally a farm shop, the business produced its own pies and travelled the country selling them at farmers' markets and food festivals, as well as at its own premises. The farm shop closed in 2012 to make way for a bigger bakery that enabled the business to make up to 10,000 pies a week. Brockleby's now travels to around 2,500 events every year, selling pies, demonstrating how to make pies, and championing local produce.
British Pie Awards organisers said 2023 had been another strong year for entries, with stand-out products in other categories including a Marmite & cheese pie, a kebab pie and even a lasagne pie. See below for a full list of winners.
"We are always highly encouraged to see the nation's love of pies at these annual awards, and this year there has been a huge level of excitement and creativity," said Matthew O'Callaghan, chairman of the Melton Mowbray Pork Pie Association and host of the British Pie Awards
"We had the pleasure of enjoying some spectacular pies, and Brockleby's Pies has overcome exceptionally stiff competition for not only the best Hot-Eating Savoury Pie but has triumphed over all entries and been crowned Supreme Champion.
"These awards celebrate the skill of British piemakers across the nation, so I'd like to say a particular congratulations to Brockleby's Pies for this huge success."
The Moo & Blue Pie takes over the title of Supreme Champion from Pieminister, which topped the competition in 2022 with its Gluten Free Mooless Pie.
British Pie Awards category winners
| Category | Product | Supplier |
| --- | --- | --- |
| Melton Mowbray Pork Pie | Dickinson & Morris Melton Mowbray Pork Pie 440g | Samworths Savoury Pastry |
| Pork Pie | Leesons Melton Mowbray Pork Pie | Leeson's Butchers |
| Cold-Eating Savoury Pie | Dickinson & Morris Kings Coronation Pie | Samworths Savoury Pastry |
| Pasty | Keema Pasty | The Butcher and The Baker Ltd |
| Dessert Pie | Traditional Bramley Apple Pie | Boghall Butchers |
| Steak and Kidney Pie | Antons Butchers Steak & Kidney Pie | Anton's Butchers |
| Beef & Any Flavour Pie | Marston's Steak and Malbec Pie | Billington Foods |
| Beef & Ale Pie | The Bell's Steak and Guinness Pie | The Bell Hotel & Pie Shop |
| Beef & Cheese Pie | The Bell's Steak and Stilton Pie | The Bell Hotel & Pie Shop |
| Meat & Potato Pie | Derbyshire Pie & Co - Manchester Meat & Potato | Derbyshire Pie & Co LLP |
| Lamb Pie | Minty Lamb Hotpot Pie | The Butcher and The Baker Ltd |
| Chicken Pie | Normandy Chicken with Apple Brandy | Fine Piehouse |
| Chicken & Vegetable / Herb Pie | Owen Taylor Chicken Leek and Stilton Pie | Owen Taylor & Sons |
| Chicken With Other Meat Pie | The Bell's Chicken & Gammon Pie | The Bell Hotel & Pie Shop |
| Speciality Meat & Game Pie | Mud Foods' Game Pie | MUD Foods |
| Hot-Eating Savoury Pie | Moo & Blue Pie | Brockleby's Pies |
| Fish Pie | WeeCOOK Fishwife Pie | WeeCOOK |
| Vegetarian Pie | Turner's Mushroom & Asparagus Pie | Turner's Pies Ltd |
| Vegan Pie | Chunk of Devon Mushroom Cassoulet Pie | Chunk of Devon |
| Pub Pie | Phat Scottish Estate, Venison & Red Wine Pie | Phat Pasty Co |
| Sports Pie | Mad K Chicken and Mushroom Pie | Mad K Ltd |
| Fish & Chip Shop Pie | Steak & Scale Ale Pie | The Cods Scallops |
| Free From | Mud Foods' Gluten Free Chicken, Ham & Leek Pie | Mud Foods |