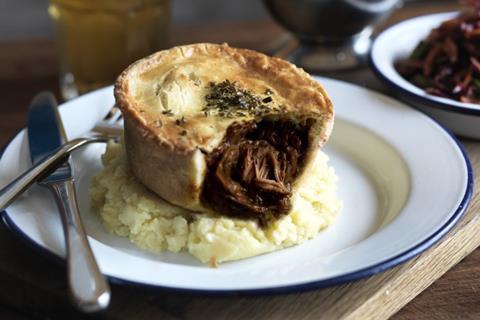 A gluten-free vegetarian pie from Pieminister has been named Supreme Champion at the 2022 British Pie Awards.
Mooless Pie, made by the Bristol-based firm, beat off stiff competition with a record of 976 pies entered across all categories by bakers, butchers, farm shops and piemakers. The winning pie is filled with jackfruit 'steak', craft ale, carrot, onion, black pepper, rosemary, thyme and tomato puree.
"Up to now gluten-free pies were always compared unfavourably with other pies," said chairman of the British Pie Awards Matthew O'Callaghan. "With this pie gluten-free pies are now equal to any other pie. Being vegetarian and gluten free, Pieminister's Mooless Pie is an 'everybody's pie' be they vegetarian or meat eater, gluten tolerant or intolerant.
"This was a superb pie, it looked good, had a nice even golden bake. The pastry was crunchy complemented by the moist filling which had 'bite' and the balance of flavours in the pie was just right," he added.
Read: British Pie Week 2022: trends, NPD and bestsellers revealed
A record 151 judges chomped their way through the pies in St Mary's Church in Melton Mowbray. There were a host of familiar faces on the judging panel including Craft Bakers Association president Neil Woods; Christopher Freeman, past master of the Worshipful Company of Bakers; Megan Roberts, research & development technologist at AB Mauri; and, Mike Holling, sales & marketing director at Birds Bakery.
Pies could be entered into 23 classes including pork pies, steak & ale, game, vegan, gluten-free and dessert with three special awards handed out as well. The Small Producer Award went to Nice Pie of Old Dalby in Melton Mowbray, the Newcomer Award was handed to Radstock-based Dickie's Pies and the Young Piemaker Award was given to 16-year-old Paul Curran of WeeCook in Carnoustie, Scotland.
Class winners, meanwhile, included a Luxury Christmas Pie from M&S, a Steak & Stilton Pie made by former supreme champion Turner's Pies, and a Spiced Miso Beef Short-ribs & Sour Cherry one from Bakeshack in Norfolk. For the full list of class winners see below:
| Class | Winner | Piemaker | Town |
| --- | --- | --- | --- |
| Melton Mowbray Pork Pie | Dickinson & Morris Melton Mowbray Pork Pie 440g (1lb) | Samworths Savoury Pastry | Leicester |
| Pork Pie | Leesons Pork Pie | Leeson Family Butchers | Oakham |
| Cold-Eating Savoury Pie | M&S Luxury Christmas Pie | Samworths Savoury Pastry | Leicester |
| Pasty | Jamaican Spicy Beef | Dickie's Pies | Radstock |
| Dessert Pie (including Bramley Apple Pie) | Pepper's Cottage Bakery Bramley Apple Pie | Pepper's Cottage Bakery | Matlock |
| Steak & Kidney Pie | Luxury Steak & Kidney Pie | Danestream Farm Shop | New Milton |
| Beef & Any Flavour Combination Pie | Steak & Stilton Pie | Turner's Pies | Chichester |
| Beef & Ale Pie | Dickinson & Morris Steak & Ale Pie | Samworths Savoury Pastry | Leicester |
| Beef & Cheese Pie | Steak & Stilton Pie | Turner's Pies | Chichester |
| Meat & Potato Pie | Pepper's Cottage Bakery Steak & Potato Pie | Pepper's Cottage Bakery | Matlock |
| Lamb Pie | Lamb, Redcurrant & Rosemary Pie | Mid Food | Midhurst |
| Chicken Pie | Chicken, Ham & Leek | Paul's Proper British Pies | Buckingham |
| Chicken & Vegetable / Herb Pie | Chicken, Portobello Mushroom & Truffle Pie | Little & Cull | Newton Abbot |
| Chicken With Other Meat Pie | Roasted Chicken & Parma Ham with Stilton & Peppercorn Sauce Pie | e Nice Pie | Old Dalby, Melton Mowbray |
| Speciality Meat & Game Pie | Homemade Wild Boar, Cider & Apple Pie | Truly Traceable Venison & Game Pies | Halesworth |
| Hot-Eating Savoury Pie | Spiced Miso Beef Short-ribs and Sour Cherries | Bakeshack | Dereham, Norfolk |
| Fish Pie | WeeCook Fishwife Pie | WeeCook | Carnoustie |
| Vegetarian Pie | Dickinson & Morris Cheese Potato & Caremelised Onion pie | Samworths Savoury Pastry | Leicester |
| Vegan Pie | Chickpea Curry Pasty | HMPasties | Bolton |
| Pub Pie | Cheeky Beef & Fondant Potato | Paul's Proper British Pies | Buckingham |
| Sports Pie | The Two Brewers Steak & Stilton Pie | Paul's Proper British Pies | Buckingham |
| Fish & Chip Shop Pie | Cheeky Beef & Fondant Potato | Paul's Proper British Pies | Buckingham |
| Free From | Gluten Free Mooless Pie | Pieminister | Bristol |