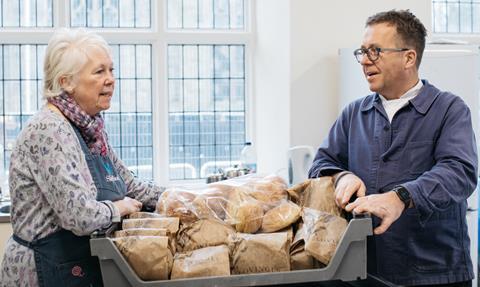 Lovingly Artisan has announced its support of Waste Into Wellbeing, a volunteer-led project delivered by South Lakes Action on Climate Change (SLAAC).
Waste Into Wellbeing runs two weekly community food shares in Kendal, where Lovingly Artisan is based, providing support to struggling households through healthy, balanced and nutritious food.
Lovingly Artisan is now baking bread for the food shares, joining the local food retailers donating to the project which estimates to have redistributed 5,041kg of food in 2020.
''We've always had our community at the heart of what we do, and as many will no doubt know we are all about health and wellbeing, which is why when we were asked if we could help out by the team we said yes without hesitation," said Catherine Connor, co-owner of Lovingly Artisan.
"We're happy that we can support Waste Into Wellbeing in our own way, and we'd encourage as many local food businesses as possible to get involved, especially as more people will need its support in the coming weeks and months,''
Duncan Pollard, one of SLACC's lead volunteers, praised the fresh bread being provided by Lovingly Artisan as "a fantastic contribution" to the food share. "It is highly appreciated and always generates excitement and a great talking point for everyone involved," Pollard said. "We are delighted to partner with passionate local businesses like Lovingly Artisan."
The Kendall-based bakery has also revealed that a Polin wood pellet deck oven it installed in August has reduced its energy bills by 61%, with a net saving of 35% on energy bills each month.
Wood pellet ovens burn compressed sawdust – a by-product of forestry operations. This means that, in theory, the ovens release the same amount of carbon dioxide absorbed by wood into the atmosphere as would be released during the normal decomposition cycle, according to the manufacturer.
"To know that our new oven has reduced our emissions is a fantastic step in delivery our green strategy, plus to see such a fantastic saving in a such a short period of time is very promising," said Aiden Monks, co-owner of Lovingly Artisan.
"We are also not naïve and need to give this time to see if these short-term benefits lead to long-term gains," Monks added.