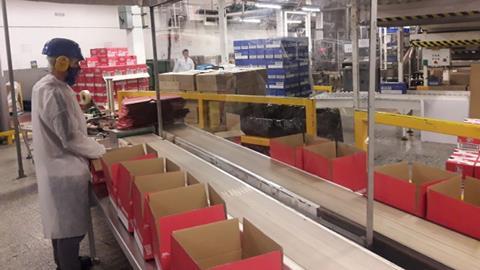 Bakery-based staff at Burton's Biscuit Co have received a £100 'thank you' payment in recognition of their "outstanding support" during the coronavirus outbreak.
Around 1,800 of Burton's 2,200 employees received the payment last week for their work at its five UK production sites – Blackpool, Edinburgh, Llantarnam, Dorset and Livingston. Staff who are or who have recently been absent from the bakeries due to illness were among those to receive it.
"The way in which our bakery colleagues are meeting the challenge head-on, and following the guidance we're providing, is hugely appreciated by everyone within and outside the company," said Simon Browne, managing director of Burton's, which owns brands including Maryland Cookies, Jammie Dodgers and Wagon Wheels.
"The nation needs the food industry like never before and we really appreciate how our bakery workers are going the extra mile in extremely challenging circumstances. This is enabling us to play a key role in bringing some normality to people's everyday lives at a time when they really need it."
Burton's has also implemented several measures to enhance the safety and wellbeing of its employees while enabling ongoing business continuity.
These include ensuring staff maintain social distancing policies across all its bakeries and installing plastic screens at production line workstations where there is the potential for risk of direct contact or distancing of less than two metres. Production lines have also been slowed down and, in some cases, stopped to ensure compliance.
"We've followed the government guidelines and taken steps to provide the safest possible working environment for all our bakery colleagues, which is enabling us to maintain production," Browne added.
"It's a tribute to everyone who works for us, and to the bakery workers in particular, that we've continued to bake across our five production sites while implementing social distancing and other safety measures during a time of higher-than-usual levels of absence due to the virus."
Supporting the frontline workers
The business is also supporting the NHS, frontline emergency and care workers and charitable organisations across the UK, providing free biscuits to people in need.
As part of the nationwide Clap for Heroes campaign – which sees people across the UK clapping for NHS workers at 8pm every Thursday – Burton's is donating the equivalent volume of every single biscuit produced between 8pm and 9pm each Thursday to the NHS.
In week one, the equivalent of more than 93,000 packets of biscuits were donated and the company has pledged to make the weekly donation for as long as the clapping campaign continues.
Burton's isn't the only company to send 'thank you' to staff. Earlier this week, Mr Kipling manufacturer Premier Foods revealed every factory worker would be awarded two additional days' annual leave, a £250 cash bonusv and a hamper of products to recognise their "tremendous resilience".