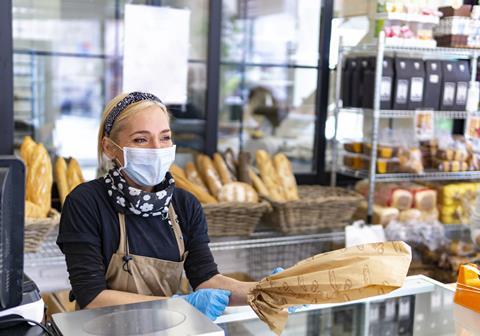 Health, hygiene and value for money are some of the trends the coronavirus pandemic, and consequent lockdown, will leave on the bakery market, according to Bakels.
"This unprecedented environment has brought about significant changes not experienced before in our generation and one which is shaping the way we live our lives socially and mentally, impacting our buying behaviours and the way we must drive growth in the bakery sector," Bakels said.
Here, we explore some of them:
Hygiene is king
Unsurprisingly, hygiene is high up the list of customer concerns as a result of coronavirus.
Food businesses, Bakels noted, must provide assurance to customers that food has been prepared in a hygienic environment. What's more, the fear of 'naked bread' means it should be displayed in secure, tamper-evident packaging.
"In addition, an opportunity for plant-based goods in some cases carry a higher perceived cleanliness, coupled with the well-documented environmental benefits they bring," it added.
Updated routines
Shopping behaviour has changed in recent months, said Bakels, leading to the renaissance of the weekly or bulk shop. As such, customers are seeking longer life products. The shift in routine has also been driven by online platforms and apps that assist in recipe planning as well as budget management. In fact, Bakels highlighted a 20% uplift in meals eaten at home.
This trend means shelf life must be maximised for baked goods and packaging optimised to serve the return of weekly shoppers, the company said.
Value is also high up the agenda for consumers, many of whom have been put under increased financial pressure during the crisis.
"Whether it is taste, promotion of in-home occasions, excellent shelf life, seasonal appeal or nutritional credentials, value proposition in baked goods is more important than ever," Bakels said.
Do it yourself
A surge in home baking has been one of the stand-out positive trends from this situation, even if it did lead to a shortage of flour in the supermarkets.
However, Bakels warns this could mean they are reluctant to return to pre-Covid buying habits.
"An urge to get hands-on means they may not be willing to return to their old selves and instead, looking to diversify their home-cooked meals and recreate OOH occasions," the company said.
A happy medium may be the solution for home bakers and bakeries alike.
"Home baking kits provide opportunity for consumers to feel like they've had a hand in baking, but without the extended time required to follow traditional scratch recipes," Bakels added.
Roberts Bakery is one such company to dabble in this area while others, such as Krispy Kreme and cheesecake specialist Pleeasecakes, offered DIY versions of their products.
Delivery is here to stay
With shops and high streets basically closed overnight, bakeries had to switch up their business models fast. This led many to explore deliveries – either by running the service themselves, like Scottish firm JB Christie, or partnering with the likes of Deliveroo and Uber Eats.
Several companies have even sought to make life easier for bakeries by helping them set up web shops. Puratos teamed up with Bakeronline last month to offer such a service while Bako North Western Group created Bakers.Market in May, which it described as the UK's first online marketplace for customers to find, order and securely pay for collection and delivery of products across the country.
"The convenience factor for consumers and the widened reach for bakeries mean online deliveries is here for the long-term," Bakels said.