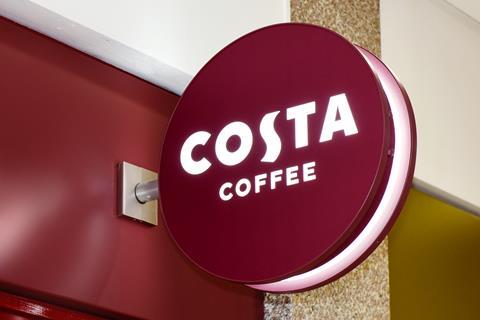 Costa Coffee has awarded all 14,500 of team members in UK company-owned stores a 5% pay increase in recognition of their work during the pandemic.
From 1 October 2021, all store team members will receive pay increases of at least 45p per hour, bringing minimum pay to £9.36 per hour from £8.91. The company's fully trained 'barista maestros' will see their pay rise by 65p per hour, bringing the minimum for these more experienced roles to £10.29 from £9.64 per hour.
Top rates of pay for store team members also increase, depending on location and experience, to £11.29 per hour from £10.64.
According to Costa, in real terms this means that the average store team member working between 20 and 40 hours per week will see their annual take-home pay increase between £500 to £900, based on a 45p increase. Those receiving 65p will see an increase of between £700 to £1,400.
"Our team members are the heart of our business and as we continue to emerge stronger from the pandemic, this 5% pay increase is one way we are able to show our thanks to them, said Neil Lake, managing director of Costa Coffee UK & Ireland.
"Our teams have been through the most challenging year and a half in living memory and have shown incredible passion, resilience, and commitment," he added. "We are committed to putting our team members first, investing in their safety and wellbeing and their long-term development, ensuring we remain a great place to work."
Costa also announced it is looking to hire over 2,000 new team members in preparation for a busy festive season, with more store openings planned to meet higher consumer demand. These new team members will also benefit from the increased pay award, the company said.
Costa recently unveiled its autumn menu, featuring new products including a Terry's Chocolate Orange Brownie.