The baking industry sees many flavour trends through the years. Some stay popular over time, such as salted caramel, while others quickly come and go as tastes and trends change. So, what's popular with consumers and what's new on the horizon?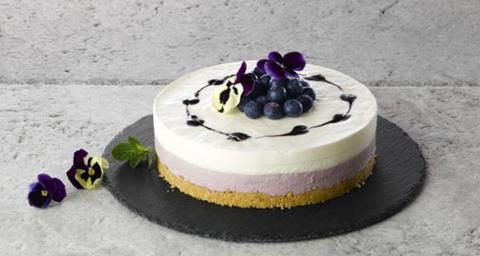 Keeping it natural
'Natural' is now a given, with bakery ingredients suppliers continuing to adapt their product ranges to address demand for 'cleaner' foods – in other words, products made without artificial additives and that are as natural as possible. As a result, natural flavours and colours have never been more important as consumers become increasingly interested in the provenance of their food and face up to growing health concerns over fat and processed sugar. Honey and maple syrup flavours are being used even more in bakery products as a more natural way to add sweet notes to satisfy customer demand.
Fresh flavours
Flavour-wise, bakery is all about fresh and clean tastes, with fruit and botanicals on-trend across the entire bakery category.
The use of fruit juice and vegetable juice concentrates, as well as extracts, can add both flavour and colour without artificial additives. Pomegranate, blueberry, mango or passion fruit flavours, as well as citrus notes of lemon and lime, are increasingly used in current bakery ranges. Raspberries, strawberries and blueberries are still big news for their superfood status, but more unusual berry flavours, such as tayberries and goji berries, are making an appearance as a named flavour. High fruit content is important in fillings, for example, and those containing origin fruit are also in demand.
Botanicals are all part of a big move towards more natural products as well as meeting a trend for nostalgia; consumers want to see and taste what they are eating, but also remember flavours from the past. Elderflower, violet and lavender, for example, remain popular due to the wider trend in plant-based eating and of course the huge boom in botanical-based alcohol, such as gin. Emerging flavours include hibiscus, rose and clementine. These are subtle 'adult' flavours, which can give sweet bakes a sophisticated taste profile.
Botanical flavours can also add a new flavour dimension to a bake – for example, if sugar has been reduced or bakers are using a recipe suitable for vegans. They add a layer of flavours that is more complex than sweetness alone and work well in icings and toppings to give an exciting flavour sensation that isn't overpowering.
As well as floral flavours, there's also a move to include herbs and spices – often associated with savoury bakery – in sweet products too. Think lemon and rosemary drizzle cake, chocolate cupcakes with fresh mint buttercream or scones filled with cardamom-infused cream. Gerard Baker, a broadcaster and chef who is currently working with Dawn Foods on a series of insights regarding food traditions and celebrations throughout the year, notes that the culinary use of basil should not be limited to savoury foods, as its floral nature is excellent when used in conjunction with creams and custards, especially with strawberries and white chocolate. He also believes that lavender, with its strong flavour, is best incorporated into a sponge or biscuit rather than creams and custards, with honey pairing well with herbal scents and chocolate.
This innovation can be seen peeping through more sophisticated lines in both retail and foodservice as consumers' tastes become more 'worldly-wise'.
Other flavour trends to look out for include matcha and green tea, along with delicate Asian flavours such as jasmine and white tea. Lemon and berry flavours continue to be strong and, of course, the perennial chocolate variants remain popular, but with hybrids and sweet and savoury combinations, such as peanut butter and chocolate, as well as coffee and cold brew coffee flavours.
Boozy Bakery
According to Innova Database, there has been a 101% rise in alcohol-infused bakery products. Flavours to watch out for include bourbon, prosecco, gin and even cocktail infusions such as piña colada-inspired cheesecake, or mojito-flavoured cupcakes and éclairs.
Café Culture Flavours
We've seen innovative ways to serve coffee and tea, such as cold-pressed coffees, coffees with syrups and in iced format, as well as the introduction of more floral and fruity tea flavours on café menus. These innovations are now moving into other categories, such as snacks, bakery or dairy.
Bakery is now taking its inspiration from the beverage menu in coffee chains like Starbucks, with seasonal offerings such as Pumpkin and Mixed Spice Latte Cupcake or Caramel Latte muffins and cookies. These flavour profiles appeal to a younger consumer for whom coffee culture and the associated terms are now part of everyday life.
Now that matcha and green tea are accepted flavours in bakery, more delicate Asian tea flavours such as jasmine and white tea will become increasingly popular. More than ever before, there's 'no passport required', as consumers around the globe have easy access to an abundance of flavours and cuisines, and are becoming more willing to try new experiences.
For more information on bakery flavours and ingredients visit www.dawnfoods.com.