Flavour is an integral part of the bakery experience, whether it's a flavour that reminds us of childhood, a familiar place or experience, even travelling to countries we can only dream of. Dawn Foods looks at what is trending in bakery flavours and shares its thoughts on the 'next big thing' to explode into the market.

According to food futurologist Morgaine Gaye, taste is not just a biological experience, "it can also be a social or cultural phenomenon; an aesthetic, a sociological, economic and anthropological concept referring to cultural patterns of choice and preference". So clearly, flavours and what is popular now reflect many different aspects of our lives. Sweet chocolate or caramel, for example, satisfy our desire for indulgence, while lighter fruity flavours meet the need for healthier options. The challenge for today's bakers is to create sweet baked goods that are full of flavour, texture and mouthfeel, all at a competitive price.
So, what are the key trends driving flavours in the sweet bakery category?
Chocolate forever
Our research consistently shows that chocolate remains the most popular flavour in sweet bakery. Although consumers are open to experimenting with new flavours1, there is an expectation for sweet bakery manufacturers to offer core favourites such as chocolate, caramel and vanilla in the range. In today's economic climate, Dawn Foods urges its customers to champion these core flavours and make sure that they are the best quality they can be.
While chocolate is the perennial indulgent ingredient, less sweet palates and health concerns mean we are seeing a shift towards chocolate paired with savoury flavours, including chocolate with spices or herbs – such as chocolate & cayenne, chocolate & rosemary, chocolate & chai – or sweet chocolate combined with savoury flavours, such as chocolate & tahini. Consumers want the depth of sensation from pairing complementary flavours. There's strong demand for unusual flavour partners, too, whether this is chocolate with sea salt, chilli or even Earl Grey tea. This is being driven by consumers' desire for additional flavour bursts, as well as added mouthfeel and texture.
New-look nostalgia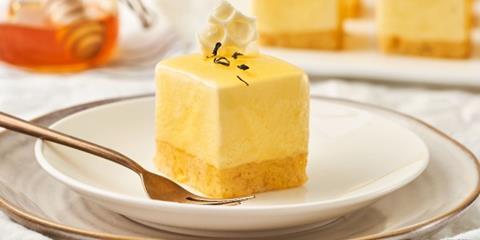 One of the key trends at present is for retro or nostalgic flavours. Consumers are still hankering after the treats of yesteryear but perceiving things with a new twist. Think botanical and floral flavours such as rose, elderflower, lemon and lavender, as well as old-fashioned garden fruits such as rhubarb and wild strawberries, alongside traditional dessert flavours such as Bakewell tart, sticky toffee, classic trifle and lemon meringue. The bakery/dessert mash-up is everywhere, appealing to consumers' love of a good pudding but as a coffee-time bakery treat.
Post-Covid, nostalgia is about comfort and reassurance, but one of the key things to remember is that today's consumers are not anchored in the past; they are after nostalgic influences but wish to have new ideas. This experimentation is being driven by younger consumers – Gen Z and Millennials – for whom life is about exploring experiences; they are keen to try fresh and 'disruptive' food ingredients and flavours they have learnt about online and are ready for adventure.
According the Euromonitor, this sense of nostalgia is being used to embrace aspects of the past, to return to shared core values and qualitative ways of living, in a way that also helps to build a better future.
Young artisanal bakers are embracing this desire for new ways with nostalgic flavours, adding in their own ideas about seasonal flavour combinations to really challenge what is considered a traditional combination. These visually tempting, full-on flavour bakes are also ideal for showcasing to the Instagram- and Tik-Tok-loving younger generation and, in turn, help to fuel the current passion for bakery. Dawn's newly published Trends Report Bakery Trends | Dawn Foods reveals that 83% of European consumers like sweet baked goods that remind them of childhood, and four in five people like to try new foods and food experiences too.
Smaller artisanal bakeries have the flexibility to introduce new limited-edition seasonal lines and experiment with flavour and it is these smaller bakeries that are helping to shape the wider retail bakery offering. These bakers are focusing on all the flavours of traditional British bakery but dialling up the format and flavour stakes. Taking bakery favourites and giving them a new lease of life – by adding new flavours and textures – provides a stepping stone for consumers, particularly younger ones, to try new things. According to a recent Kantar report2, 29% of consumers state 'new flavour twists' will influence their product choice in cakes, cake bars and sweet baked goods.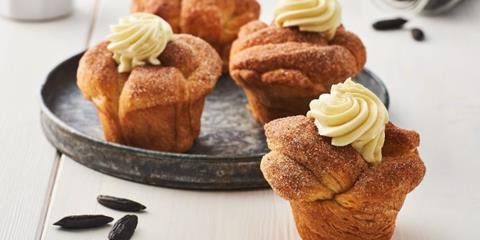 Plenty of traditional dessert-inspired flavour combinations are being used to top and fill pastries and cakes. Think rhubarb & custard, elderflower & lemon, banana & caramel (banoffee) as well as strawberries & cream. For an off-the-wall mash-up idea that works, Dawn has developed a recipe for a Tonka Bean, Horseradish & White Chocolate Cruffin.
Flavours from the East
Much as nostalgia is on-trend, new flavours, particularly those with an Asian influence, and spices used traditionally in savoury products are emerging in sweet bakery too. New flavours include calamansi (citrus) and kumquat, as well as Japanese influences such as yuzu and sakura (cherry blossom). Big and bold fruit and spice combinations are being used in patisserie such as a Chilli Raspberry Paris Brest or Cardamon Madeleines, for example. More delicate flavours, but still with an Eastern influence, include tea infusions, such as Butterfly Pea Tea to bring a delicate flavour to patisserie creams and desserts.
Fusing authentic American flavours with flavours from around the world offers a hybrid concept that younger consumers will love. For example, just by adding a small amount of matcha powder or ube powder to a New York-style cheesecake mix, bakers can create an eye-catching Matcha New York Cheesecake, perfect for Instagram.
Dawn encourages bakers to think outside the box and introduce new flavours that will appeal to today's Instagram-savvy and well-travelled (even if it is only digitally) consumer. Bubble Tea New York Cheesecake, where a cheesecake mix is infused with black tea leaves and then the finished product is topped with cooked tapioca pearls and caramel sauce, is a good example of how far flavours can be pushed for maximum impact. This is a perfect East-meets-West combination that is so fashionable right now.
It is all about being experimental with flavour and pairing together sweet with spice, sweet with salty such as peanut butter with fruit, and sweet with texture – as in the case of the Bubble Tea New York Cheesecake.
Today's consumers want to explore new tastes and sensory experiences and are looking for products that can develop this sense of adventure. The baking industry is seeing this as an opportunity to innovate their products by intensifying the flavours, colours, textures and aromas that sweet bakes can offer.
To find out more about the latest trends in bakery or how Dawn Foods can help, go to Bakery Trends | Dawn Foods.
Source
1 Innova 2021, 70% of European consumers say they are open to trying new flavours
2 Kantar Profiles/Mintel report, Feb 2023

Dawn Foods is a family-owned company that has been creating high-quality bakery ingredients and sweet bakery products for more than 100 years. From humble beginnings in Jackson, Michigan, USA, today Dawn Foods is a global bakery business, with a product portfolio of more than 4,000 products and employing nearly 4,000 people. We conduct business in more than 105 countries and operate in more than 57 locations worldwide. From its BRC-certified, nut-free sites, including the company's UK HQ in Evesham Worcestershire, Dawn Foods manufactures a complete range of sweet bakery ingredients, which are supplied into the artisanal bakery, foodservice, retail and food manufacturing channels. Dawn's products range from dry mixes, bases and concentrates, to wet goods such as icings, glazes and fruit fillings, as well as a broad selection of ingredients such as chocolate and flavourings. Dawn is also a distributor of Dobla® chocolate decorations into the UK market.
View full Profile