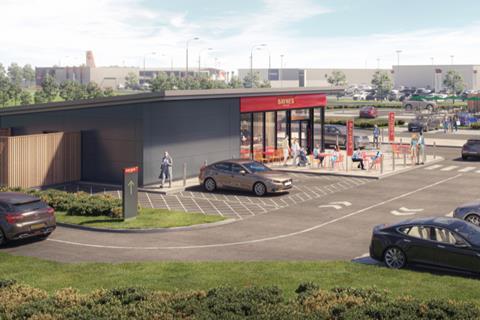 Scottish bakery Bayne's the Family Baker is to open its first 'drive-up and drive-thru' site.
The £1m purpose-built facility, which is being developed by Fraser Property, is expected to open in November 2021.
Occupying a 0.8 acre plot at Hillington Park, Scotland's largest business estate, the 1,635 sq ft project will include 32 parking spaces.
It will be based in an amenity zone located close to Junction 26 on the M8 motorway.
The expansion, which will create 14 jobs, builds on the third-generation bakery's 59 other shops, which operate across Scotland from Dundee down to Haddington and across to Glasgow.
The outlet will also become the company's seventh site to open in the west of Scotland in two years.
John Bayne, joint managing director at Bayne's the Family Baker said the new outlet addressed the growing trend for "convenience and easy access to fresh bakery and coffee".
"Thousands of people work at Hillington Park every day and many thousands more pass close by on the M8 motorway so it is the perfect location to locate this new, alternative way of selling our traditional and modern Scottish baked savoury and sweet products," he said.
He added that his grandfather, who started the business in 1954, would probably never have "envisaged people buying bakery products from a Bayne's drive thru, or indeed how successful the company would become".
Grant Edmondson, commercial director at Hillington Park said the combined appeal of the many thousands of people working in and visiting Hillington Park every day and a highly visible site next to key transportation links makes the location a compelling business case for popular brands.
"This food and beverage addition will be welcomed by the growing workforce at Hillington Park and is part of Frasers Property's plan to enrich the tenant and customer experience by increasing the estate's amenities, which includes offering a wide variety of food outlets as well as commercial electric vehicle charging points," he said.
Hillington Park is home to over 500 businesses employing over 8,000 staff and attracting thousands of consumers and commercial visitors every week.
Drive-thrus are becoming increasingly popular among bakery businesses and coffee shops, even more so as many remained lucrative during 2020. Costa and Starbucks have the first and second largest portfolios of drive-thrus in this market, respectively.
Fellow Scottish baker Stephens is continuing the roll out of its drive-thru concept, which was first launched in 2018, this year while Canadian chain Tim Horton's has revealed plans to open a drive-thru in Perth.
To find out more about the success of drive-thrus and other types of retail strategies throughout the pandemic, download the free Bakery Market Report 2021.