It turns out that there is nothing like a global pandemic to move a bakery retailer's goalposts. With the Covid-19 crisis came new consumer patterns, the shift to working from home and the rise of Zoom – all factors leading bakeries and cafés to reassess shop locations and formats.
So now that it's time to build back better, it's out with the old ways and in with new ideas and strategic openings in locations that might previously have been disregarded.
"With working from home likely to be long-term for many, capturing customers has become more difficult due to loss of commuters," explains Shannon Goldsmith, shopper insight analyst at ShopperVista from IGD.
It seems that the type of location everyone wants a piece of is the drive-thru – believed by some to be a pandemic-proof format. Those that already operate them want more, and those that don't want to get in on the act.
Greggs, which opened its first drive-thru at Irlam Gateway Service Station in Manchester in 2017, has seen growth in the format, particularly throughout the pandemic. CEO Roger Whiteside noted in the company's AGM in May that its shops accessed by car were the strongest performers during the Covid crisis and these location types already form most of the new shop pipeline. Although competition for sites is fierce, the business has ones in England, Wales and Scotland lined up.
In the virtual presentation Whiteside said Greggs expects the competitive landscape will have weakened significantly because of Covid, presenting opportunities to improve the Greggs' estate. "Drive-thrus have cemented their position as the most attractive shop format type and we, like others, are pursuing these wherever we can."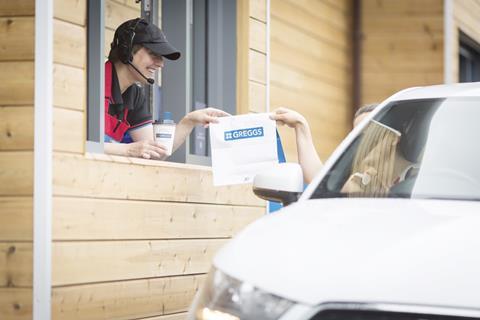 So, who are these other companies? What potential does the format offer to them? And what challenges can operators expect to face when it comes to securing and operating these sites?
Currently, the landscape is dominated by the fast-food retailers such as McDonald's and KFC, but coffee chains Starbucks and Costa have cornered a portion of the market through franchising their brands with petrol forecourt and motorway operators.
Costa now has more than 250 drive-thrus in the UK and is also experimenting with digital enhancements and different store models, with or without seated areas.
"Drive-thrus are one of our fastest-growing propositions and we believe this is only likely to accelerate further, so are excited to see where that can take us as a business," a spokesperson says.
Drive-thrus have cemented their position as the most attractive shop format type
With any retail spot, there are several key factors when determining whether a location is right with a high level of traffic (either foot or motor) among them. "We naturally look at local measures like cars per day and residential density, as well as additional factors like whether the store will be near other retail sites or office developments. There will also be more specific factors to consider linked to each site, such as strong visibility, ease of access and car parking," the spokesperson adds.
Costa recently opened a new concept drive-thru store in Edwalton, Nottingham, which offers intelligent digital menu boards both inside the store and across the drive-thru lane. These screens ensure that product information on menus can be updated efficiently, enhancing the service.
Starbucks is also evolving its drive-thrus, focusing on digital innovation "to hyper-personalise" the experience. "Developing our on-the-go drive-thru experiences has meant adding to, and investing, in new store formats, as well as expanding into new locations outside of densely populated urban areas, to best serve our customers," it says.
Canadian chain Tim Horton's, which ventured into the UK market in 2017, is another brand making a play for drive-thrus, with 14 in the UK – representing around half of its estate – and more in the pipeline.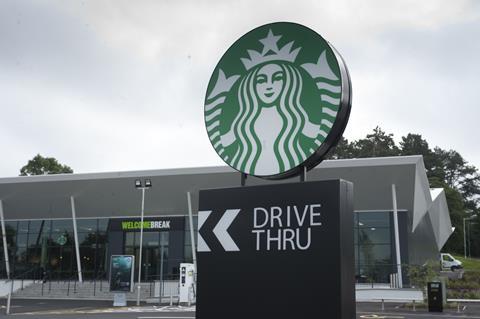 Flexibility for consumers
Petrol operator EG Group, which also now owns Asda and the healthy fast-food brand Leon, has been behind many of the UK's existing drive-thrus at its forecourt sites, and is at the cutting edge of innovation. It's planning the first drive-thru Leon restaurant in autumn 2021. Leon west Yorkshire will be a 'digital-first' restaurant with kiosks for digital ordering and payments and shopper recognition technology, as well as product innovations. The eco-friendly site will be supplied with power from a 100% renewable energy source, with a wind turbine to generate more sustainable power planned post-launch.
EG Group commercial director Ilyas Munshi outlines some of the upsides of the drive-thru format: "Drive-thrus provide greater flexibility to the consumer, especially for those who are looking for a time-sensitive service. Drive-thrus also see more customers and more transactions, as they are easily accessible and convenient." The format saw significant increase in demand as Covid lockdown restrictions lifted, he adds.
EG Group continues to look for new roadside locations with high traffic flows on the edge of busy towns and in built-up urban areas, the best sites for drive-thrus. However, opening a drive-thru is not for the faint-hearted; it requires an increased investment when compared to a standard retail outlet. "There are a number of factors to consider, including the land on which a drive-thru will sit, extra parking to avoid blockages and the build-up of traffic, and extra equipment to cater for both store and drive-thru consumers among others," Munshi says.
The ideal development for EG then is a multi-branded site offer. An example is found at Frontier Park, Blackburn, where there is a Starbucks, Greggs and KFC drive-thru.
Thinking beyond traditional
These considerations aren't putting off traditional bakeries, which are also excited by the format as they look to meet changing consumer shopping habits. This was kickstarted by Scottish baker Stephens, which opened the first independent bakery drive-thru in Dunfermline in January 2018.
André Sarafilovic, managing director, believes that the opening reinforced the company's reputation as forward thinking. The plan for 2021 is to roll out the concept, which proved popular in lockdown.
Fellow bakers in Scotland and further afield are planning their own drive-thrus. Scottish firm Bayne's the Family Baker is to open its first 'drive-up and drive-thru' site in November. The £1m purpose-built facility, close to the M8, is described by joint MD John Bayne as a concept that provides "convenience and easy access to fresh bakery and coffee".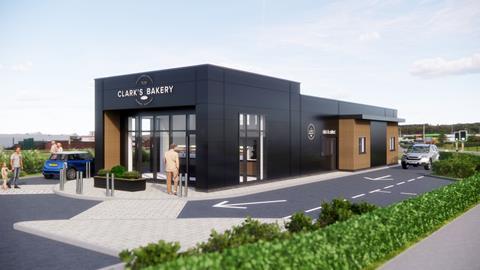 Jonathon Clark, owner of Clark's Bakery in Dundee, meanwhile, is seeking planning permission for the chain's first drive-thru, saying that the pandemic has shaken the status quo. Originally, he thought drive-thrus had too many complications, such as producing a vast menu at the speed that a customer expects.
"We saw with Covid that drive-thru was an opportunity, with our Scottish neighbour Stephens reporting that the format had been successful," he says. "Following the lockdown, we now have a customer that wants it all; they want to be able to buy food from Clark's, but with the option of not having to leave their car or sofa."
Clark's planned drive-thru menu will be limited to best-selling products that can be produced quickly with the company investing in the same fryers and ordering system as McDonald's.
However, the process hasn't been as smooth as Clark's had hoped. The business is currently appealing a refusal from the local authority in Dundee, which turned down its application for the drive-thru on the grounds it doesn't minimise the need to travel by car, also highlighting concerns it would draw footfall away from the city centre. Clark's argument is that the bakery remains committed to its existing nine-shop business, but just wants to add another element to it. "If ever a Covid-19 epidemic crosses our path again, having a drive-thru will help us stay afloat and keep all our shops open and 150 jobs secured," Clark says.
We now have a customer that wants it all; they want to be able to buy food, but with the option of not having to leave their car or sofa
Rapidly expanding bakery chain Wenzels, which currently has 80 shops, has also come up against challenges – namely finding the perfect drive-thru site, as Karl Spinks, assistant general manager notes they are quite difficult to find. "At the moment we are looking for an existing site, but everyone wants them. Building our own may be the solution as we scale up and follow our plan to go nationwide," he says.
The firm is expanding in new areas such as industrial estates and out-of-town destinations, where digital delivery sales can bring in revenue.
The retail landscape is changing, and customer habits are too, Spinks adds. "Retail always has to evolve and change. We are exploring all sorts of options – service stations, any sort of hub on a main thoroughfare is a great location. We think that there will be less city centre trade in future, with homeworking. Car park facilities are an added draw for a new shop. We also look for areas where delivery drivers can draw up."
With drive-thru, upfront costs may be higher and suitable sites and planning permission trickier to come by. There also needs to be an environmental story to tell to balance out the fact that customers are arriving by car.
All that said, the evolving drive-thru model could benefit both operators and consumers, with customers speeding through from digital checkout to collection point and even bringing their own seats.