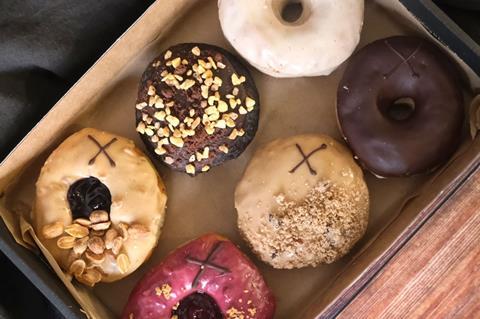 Crosstown Doughnuts is trialling a 'dark retail' delivery model in Cambridge and Walthamstow.
The 'dark retail' sites – locations without a shopfront where goods are packed for delivery – will act as decentralised hubs for on-demand deliveries and collections, with customers in those locations able to get doughnuts delivered to their doorsteps in under an hour.
Cambridge represents Crosstown's first venture outside of London since it launched in 2014.
If successful, the business plans to expand the delivery hub model to other areas within reach of central London, such as Oxford, Brighton, Richmond, Croydon, Chalk Farm and Chiswick.
All sites will be served by its London-based bakery which will deliver doughnuts fresh each morning.
The business has seen direct-to-consumer (d2c) online ordering revenues increase by 600% compared to 2019, it added. This has largely been supported by the introduction of nationwide delivery in August 2020, an expanded gifting offer, and a delivery hub pilot in Battersea.
"Since launching delivery in August 2020, we have been able to identify a number of hotspots with a high demand of Crosstown products. Assuming the new locations go as anticipated, we hope to continue to reach our customers in this new manner, with locations such as Brighton and Oxford high on our list," said JP Then, co-founder of Crosstown.
"As we have seen in our Battersea location, low cap-expenditure opportunities paired with the right enabling technology can offer exceptional opportunities for growth."
The popularity of the 'dark' or 'cloud kitchen' model is expected to continue to boom, it added.
Band together
Crosstown has partnered with other independent operators in Cambridge and Walthamstow.
"There has never been a more important time for independent operators to band together – all three of these new delivery hubs are utilising unused space from friendly operators who are looking to put a basement, a mezzanine or a spare first floor area to work. We are open to discussions with anyone who may find this arrangement mutually beneficial to drive growth whilst keeping costs down for both parties," added Adam Wills, co-founder of Crosstown.
The first site is based in the Crate building on St James Street, Walthamstow. Consumers can place online orders via eCommerce solution Slerp from 9am-8pm seven days a week. Cambridge will initially be a four-week residency on All Saints Passage in the city centre, launching in March.