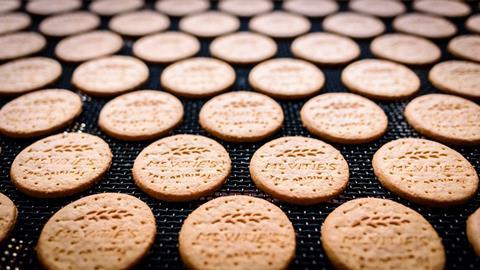 Brits splashed out an extra £212m on biscuits in 2020 than the year before taking total category sales to £2.96bn, according to the latest data from McVitie's owner Pladis.
The sales figures for the 52 weeks ending 27 December 2020 [Kantar] were revealed in the Pladis Annual Biscuit Review of 2020 which examines how the category has performed over the past year.
Here's a few of the key takeaways from the report:
2020 was a bumper year for biscuits
Retail biscuit sales grew 7.2% in 2020 [Kantar] as the category neared £3bn in value.
"Biscuits had an incredible year amid a tumultuous 2020," said Scott Snell, vice president of customer at Pladis UK & Ireland. "And, while there were certainly winners and losers in this mix, overall, biscuits began to play an increasingly important role in consumers' lives."
The pandemic saw shoppers shift from on-the-go formats like breakfast biscuits and instead look for small comforts in the biscuit aisle. Among the top performers were chocolate biscuit bars, everyday biscuits and everyday treats which saw value sales climb 11.5%, 15.1% and 11.9%, respectively.
Healthier biscuits, meanwhile, suffered a value drop of 5.2% alongside seasonal ones (-0.4%).
Shopper favourites remained strong
The top 10 biscuit bestsellers continued to grow in 2020 with value sales up 12.1% in 2020 versus 3.4% growth seen in 2019. What's more, the top 10 brands represented £1 for every £5 spent.
"Last year I said the importance the biscuit category's core range should never be underestimated – and during 2020 we saw just how heavily the category relies on its success," added Snell. "Core biscuit category products – like branded bestsellers – should be central to any retailers' ranging strategy as these are the products shoppers seek out time and time again."
| Brand | Trading Company | Biscuit category | Value sales | % change |
| --- | --- | --- | --- | --- |
| McVitie's Chocolate Digestives | Pladis UK | Everyday Treats | £104.5m | 20.5% |
| KitKat | Nestlé Rowntree | Chocolate Biscuit Bars | £89m | 21.4% |
| McVitie's Jaffa Cakes | Pladis UK | Everyday Treats | £54.8m | 4.9% |
| McVitie's Digestives | Pladis UK | Everyday Biscuits | £51.1m | 25.6% |
| Oreos | Mondelēz International | Everyday Treats | £39.5m | 23.1% |
| McVitie's Rich Tea | Pladis UK | Everyday Biscuits | £34.6 | 16.8% |
| BelVita Breakfast Soft Bakes | Mondelēz International | Healthier Biscuits | £32.3m | -15.3% |
| McVitie's Club | Pladis UK | Chocolate Biscuit Bars | £31.1m | 17.2% |
| McVitie's Chocolate Hobnobs | Pladis UK | Everyday Treats | £30.8m | 18.2% |
| Nakd Bar | Lotus Bakeries | Healthier Biscuits | £30.6m | -21.7% |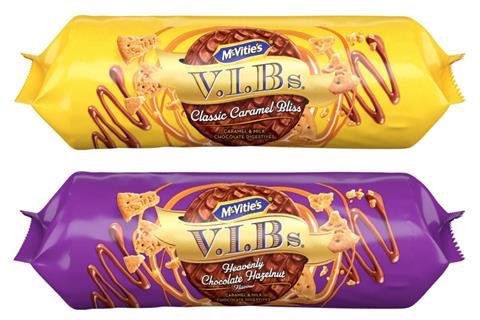 Biscuit NPD was worth £45m
Innovation is an important driver of growth in the biscuit category, according to Pladis. This was proven in 2020 with new products adding a cool £45m to category value.
In total, 11.4% of sweet biscuit sales came from NPD in 2020. These predominantly came in the form of new twists on classic lines, be it flavour innovation or taking beloved confectionery brands into the biscuit aisle.
Bestselling biscuit NPD for 2020, according to the report, included Malteser Biscuits, Bahlsen Choco Leibniz Baileys and Cadbury Bournville Fingers. Pladis also rolled out a host of successful new lines under its McVitie's brand including Pineapple Jaffa Cakes and Very Important Biscuits (also known as VIBs) in Luscious Blood Orange and Classic Caramel Bliss among the flavours.
Health will climb the biscuit agenda
Biscuits could take a £267m hit as a result of proposed government regulations on products high in fat, salt and sugar (HFSS).
"A wide range of products, including biscuits, are likely to be affected by the government's intentions to further regulate products that are deemed to have high fat, sugar or salt content. This year will be about the preparations for any potential changes in where and how shoppers will buy biscuits as a result," Pladis said.
Healthy biscuits got off to a slow start in 2021 as the UK remained in lockdown but the manufacturer expects weight management biscuits in particular to pick up in the future. As such, biscuit fixtures need to 'positively support the health agenda' by highlighting healthier alternatives on shelf. One example given was Sainsbury's which rolled out a 'Under 100 calories' barker in 2018.
Back in February 2020 Pladis revealed it had cut the sugar in nine of its biscuit brands by up to 10%.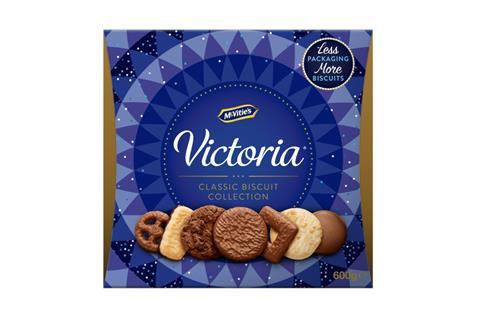 Christmas 2021 will be bigger than ever
Seasonal biscuits may have taken a slight hit in 2020 due to restrictions on socialising but this is only temporary as Pladis proclaims Christmas 2021 is 'bound to be huge'.
"We can expect to see a release of pent-up demand for seasonal events in 2021 – especially Christmas – as people make up for missed time and celebrate with friends and family," Pladis noted.
Its brands feature highly among the top 10 seasonal lines with the brands that focussed on gifting and sharing among the top performers for 2020. They are:
McVitie's Victoria Assortment
McVitie's Family Circle
Jacob's Cracker Selection
Fox's Fabulously Biscuit Selection
Oreo Seasonal Assortment
Paterson's Shortbread Fingers
Cadbury Snowy Fingers
McVitie's Chocolate Digestives Seasonal Edition
Fox's Chocolately Selection
Carr's Savoury Assortment