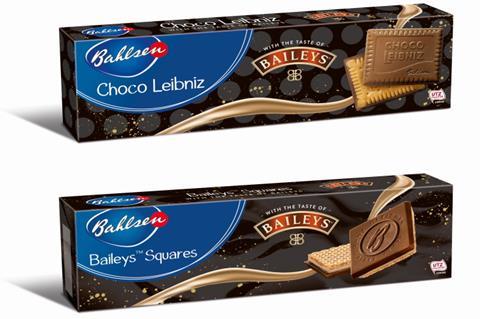 Bahlsen has unveiled two chocolate biscuits in collaboration with liqueur brand Baileys.
The limited-edition biscuits – Bahlsen Choco Leibniz Baileys and Bahlsen Baileys Squares – are described as two of Bahlsen's "most luxurious biscuits yet" and hit shelves this autumn.
Available in a pack of nine, Bahlsen Choco Leibniz Baileys (£1.79) features the biscuit company's signature butter biscuit set in continental milk chocolate and infused with Baileys Original Irish Cream. They're available in Tesco now and Sainsbury's from 5 October.
In addition, Bahlsen Baileys Squares (£1.79) comprise a layer of Baileys Original Irish Cream sandwiched between a wafer biscuit and topped with continental chocolate. They come in a pack of twelve biscuits. These are due to launch in Tesco on 29 September.
They come just a few months after Bahlsen teamed up with Baileys on strawberries & cream biscuits.
The biscuits have been crafted to capitalise on the growth within the special treats category, driven by consumer preference for a truly indulgent biscuit, said the firm.
"Consumer appetite for special treats has seen ongoing popularity over the years, with consumers keen to have indulgent biscuits that are 'worth the calories', which is particularly reflected in the growth of Choco Leibniz," said Julien Lacrampe, trade marketing manager at Bahlsen.
"These two new product developments, in collaborations with Baileys, a much-loved consumer treat, are some of the most indulgent biscuits we've created and we're excited for consumers to enjoy them this autumn."
Consumers will be able to find both biscuits at Nisa from 18 September, Waitrose from 28 September, Asda from 5 October and Booths from 7 October, as well as in Ocado stores.
Baileys has also collaborated with Finsbury Food Group to launch the Baileys Marbled Celebration Cake.