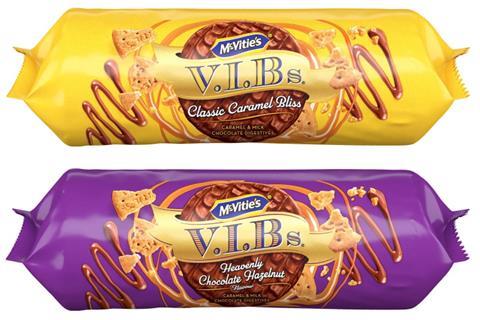 Pladis-owned McVitie's has extended its range with a trio of 'competitively-priced' premium-styled biscuits.
The 'A-list' Very Important Biscuits (VIBs) comprise Classic Caramel Bliss, Heavenly Chocolate Hazelnut and Luscious Blood Orange.
Described by brand director Emma Stowers as its "finest biscuits to date", each biscuit is topped with a layer of caramel and coated with McVitie's milk chocolate.
Launching in Asda from 12 July at an rrp of £1.79 for a 250g pack, they will extend the biscuit brand's Everyday Treats portfolio, and will roll out to major retailers and selected independents from late August.
McVitie's said it hoped the launch would attract young shoppers.
"We're seeing a huge opportunity to encourage shoppers looking to make snack-time a little bit special to trade up. But at present, shoppers on the look-out for special biscuits are likely to have to spend up to 200% more than they do on everyday treats," said Stowers.
"We're setting the rrp for VIBs very competitively – providing even more incentive to trade up, at the same time as making them affordable enough to enjoy on a regular basis, while still feeling premium."
The new biscuits will be kicking off across social media with a 'Very Important Biscuits, Very Hard to Describe' campaign, whereby shoppers will be encouraged to describe the biscuits on their social channels, said the firm.
"Our vision is for [the VIBs] to become a best-selling range in the biscuit aisle within its first few years on shelves, and we will be supporting it with PR and social activity, out-of-home advertising, digital and radio, as well as shopper marketing."