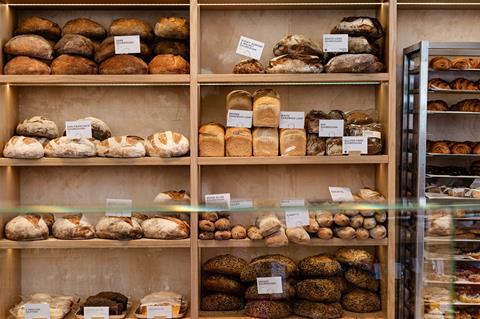 Gail's Bakery has this month expanded its estate to 100 sites with the opening of a new shop in Surrey.
The business described the opening of the site in East Sheen as the latest demonstration of its commitment to making craft baking a part of every neighbourhood.
Gail's origins date back to the 1990s and the launch of wholesale bakery business The Bread Factory, which supplied some of London's leading restaurants.
"After a decade of exclusively serving some of the world's best chefs, we opened our first Gail's in London's Hampstead High Street in 2005," said Tom Molnar, CEO of Gail's owner Bread Holdings.
"Today, we have skilled bakers who understand the craft and can teach others, but we need more places to celebrate what they do."
Gail's has previously said expansion of its store estate was bringing opportunities for employees to advance, stating that more than 200 of its staff had been promoted in the past six months.
Molnar last year told British Baker the company had plans to double in size in three to five years, and the business recently acquired a new 70,000 sq ft bakery in Milton Keynes to help drive its expansion plans.
"We shouldn't rest until every community can choose craft," he added. "The ethos of a craft baker – to do everything to a high standard, pay attention to details, respect the ingredients and share widely – is an ethos we think is worth living by."
This business last month launched a recruitment campaign promoting the benefits of working in a bakery. The Early Bird Never Works Late campaign highlights that, unlike many hospitality staff, bakery workers don't have to work late into the night.
Gail's points out that its bakeries close by 7pm, and don't have double shifts like many hospitality venues with late night operations. It added that this means staff can then spend time with their family or enjoy their hobbies in the evenings.
The business also explained that it remains committed to improving the end-to-end food system by selecting like-minded artisan producers to make the ingredients that go into its products.
These include Shipton Mill and Cotswolds-based eggs supplier Cackleberry Farm, whose rare-breed flocks are entirely free range and live in traditional chicken houses on 12 acres of land.
This year, Gail's partnered with fruit and vegetables supplier Natoora to produce soups designed to showcase the best of each season using vegetables such as Lancashire parsnips and hand-picked pears from East Sussex. Gail's has paired its sourdough loaves with the soups.