It's been a tough year for the plant bread market. With the price of a loaf up by around a third in the past year, cash-strapped shoppers are cutting back or changing the bread they are buying.
As a result, total unit sales of pre-packed bread are down 4.7% in the 12 weeks to 20 May [Circana Grocery Outlets data], with sales of half-and-half loaves down 14.4%, 'bread with bits' down 11.1% and brown bread down 8.6%. The exception is white bread, as unit sales of white pre-packed loaves are up 0.6% year-on-year.
With Britain's biggest bakers seeing declines and facing intense pricing pressures, what strategies are they employing to keep customers engaged with their pre-packed loaves?
Hovis took the direct approach in December with the launch of a lower-priced 800g branded white loaf called Simple White. The bakery said pricing for the loaf is at the discretion of retailers and it is currently selling for £1.25 in Tesco, and is on a £1.10 Clubcard offer (June 2023).
At the time of Simple White's launch, Hovis said it understood the importance of catering for the wide tastes and budgets of its consumers.
And, with the average price of an 800g sliced white loaf soaring in the past two years from £1.06 to £1.39 – a level it has remained at since December last year [ONS Retail Price Index figures], Simple White may turn out to have been a savvy move.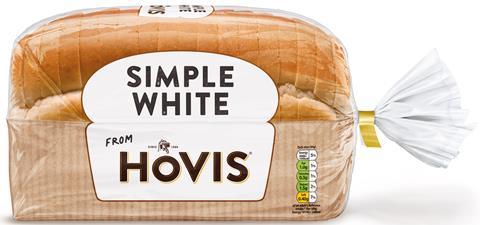 "Shoppers are buying fewer different types of bread for their households and are increasingly moving towards pre-packaged white bread, which can often be the cheapest loaf and is most likely to satisfy the needs of multiple people," explains Hovis commercial director Alistair Gaunt.
Jacksons, which supplies the premium Jacksons of Yorkshire bloomer loaf range, has also produced NPD in reaction to the cost-of-living crisis, launching the JOY (Jacksons of Yorkshire) Farmhouse range in March this year.
"We developed our Farmhouse range to offer those who love our brand the quality and taste they enjoy, but at a lower price," explains Jacksons managing director Owen Elliott. "Since launch in March, the new range of wholemeal, white and multi seed and grain farmhouse loaves has performed really well."
Quality and value
Elliott adds that shoppers will choose premium if it represents quality and good value for money, and the business has also launched a range of 400g Artisan bloomers into Waitrose. Available in two flavours, Tiger; and Sunflower, Pumpkin & Linseeds, they can be heated at home in the oven but are also ready-to-eat fresh from the packaging.
"This range was developed with insights around frustrations of not having the time to make an additional trip to store for their weekend treat of freshly baked bread," says Elliott.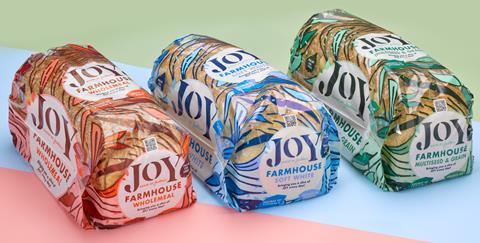 Allied Bakeries took the premium route late last year, rolling out two new Kingsmill bloomers – Great White Bloomer with Sourdough and a Malted Bloomer. The bakery said it has made the slices a few millimetres slimmer than other bloomers to make them suitable for all family members.
Allied has been having a torrid time of late, with Kingsmill volumes in decline, and the company last year axed its Bürgen bread brand to focus on what it described as "core volume lines to maximise production efficiency".
Bürgen had undergone multiple relaunches in recent years as Allied sought to find a stable audience for the brand, which had made its UK debut in 1997. Although Bürgen's 'healthy' positioning didn't ultimately work, health remains a driver of NPD despite the cost pressures on the market.
'Since the pandemic, consumers have become increasingly aware of the difference diet makes to their health'
Modern Baker, for example, has partnered with Hovis and Marks & Spencer to launch Superloaf 5.0. This 400g mass-produced version of what it previously dubbed the 'healthiest loaf ever made' launched in April in M&S stores and Ocado (rsp: £2.30), with further supermarket listings expected in the autumn.
Co-manufactured and co-packaged by Hovis, Superloaf 5.0 is made using the Chorleywood bread process with standard white flour and is based around optimised fibres that enable slower glucose absorption, reduced calories and optimised gut microbiome activity.
Michael Schofield, marketing manager at British Bakels, says bread brands are making it part of their strategy to highlight health claims in their new products.
"Since the pandemic, consumers have become increasingly aware of the difference diet makes to their health," he explains. "We have also observed consumers' increasing awareness that diets that are low in dietary fibre may contribute to the development of diseases, such as bowel cancer and heart disease – this has directly impacted demand for healthier bread."
Bakels has identified that health benefits in bread appeal to 25% of UK consumers, while 20% of adults are interested in foods that support their immune system.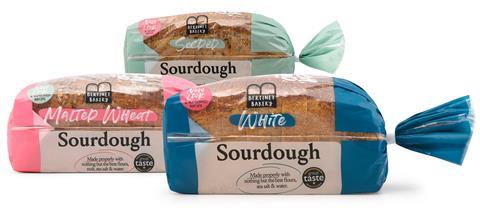 Gut health
Bertinet Bakery points out that interest in healthier eating has shifted away from fad diets, with awareness of the gut microbiome growing enormously.
"Many more people are aware that to support their gut health and immune systems, we need to eat a diversity of different products, and grains fall into that," says Anomarel Ogen, executive head of bakery at Bertinet.
Ogen adds that awareness has also grown around fermentation and the importance of fermented foods in helping the gut microbiome.
"Fermentation sits at the heart of authentically made sourdough bread, so it is brilliant to see Bertinet Bakery's core beliefs resonate more widely," he says.
Bertinet has welcomed the introduction of the publication a code of practice for the labelling of sourdough products. The code suggests three definitions of products for labelling and marketing purposes: Sourdough (product name); (Product name) with sourdough; and Sourdough flavour (product name).
"Until recently the term sourdough has been bandied about too liberally – and has been tainted by its use in breads that haven't fully undergone the authentic fermentation process, and have been chemically enhanced with yeast or preservatives," says Ogen. "We are proud to be leading the charge to preserve the authenticity and purity of sourdough, and now major industry players are coming to us for advice."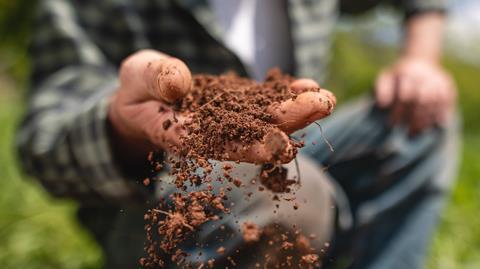 Regenerative farming
Bertinet is also among the businesses that are taking an interest in the agricultural processes used by their suppliers and the importance of biodiversity.
In some cases this includes partnering with flour suppliers that use regenerative farming methods. Regenerative farming is a loose term that can be open to interpretation but refers to the idea of improving and protecting the health of soil.
Jason's Sourdough, for example, has partnered with regenerative farming specialist Wildfarmed to produce a sliced Malted Ciabattin loaf made with Wildfarmed flour as well as a mix of other flours, plus malted rye. It launched into Waitrose and Ocado in April with an rsp of £2.35.
'We feel that, as bakers, it's our place to help the country's agricultural systems and nutrition'
Wildfarmed, which was founded by Andy Cato, George Lamb, and Edd Lees in 2019, works with farmers to produce flour using regenerative methods to help improve farm biodiversity and soil condition. Marks & Spencer has also launched loaves made with flour from the Wildfarmed project.
Bertinet, meanwhile, is using regenerative wheat in sourdough half bloomers that are available in Ocado and are set for further instore and online distribution. The line-up comprises Rustic Country White; Seven Seeds & Grains; and Potato, Polenta & Onion loaves
"We feel that, as bakers, it's our place to help the country's agricultural systems and nutrition along by making the right products and introducing them to our customer base," says Ogen. "This means we can't just stand still and accept the status quo – we're constantly developing and looking for ways to improve our baking processes, techniques and ingredients to make our loaves better in all senses: nutritionally, environmentally and in taste."
Roberts Bakery, meanwhile, has sought to bolster its relevance to shoppers in its heartland by carrying out a rebrand designed to emphasise its Cheshire roots.
"The new positioning marks a return to our brand truths as it refocuses on why consumers love Roberts Bakery, its regionality, a focus on quality, and commitment to its local community," explains Roberts Bakery category manager Rachael Chard, adding that consumer feedback to the move has been "incredible".
"We have had lots of positive engagement with our consumers who tell us how much they love our new logo. From a business perspective we have gained distribution in the major multiple and discounter channel."
Costs down
Looking to what the immediate future may hold for the bread category, there are signs of continued upheaval despite some costs falling.
Own-label bread, for example, has become a new front in the supermarkets' battle for share as retailers cut the price of several non-branded loaves.
Asda, Sainsbury's and Tesco, as well as discounters Aldi and Lidl, have reduced the price of many 800g loaves to 75p. The discounts of up to 21% were due to passing on savings from a drop in the commodity price of wheat, according to retailer statements.
But there is still much uncertainty around price, suggests Chard at Roberts Bakery.
"Commodities continue to rise in some cases, despite some drops in others," she explains. "This, combined with the on-going war in Russia and Ukraine that is having an impact on the bakery industry as a whole, means it is hard to predict anything for certain."