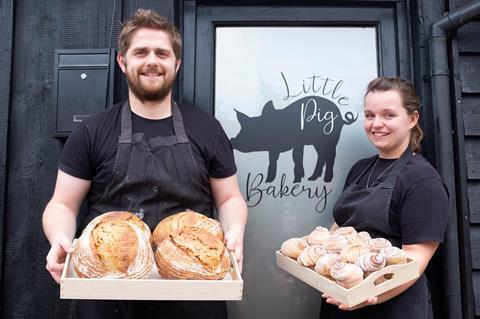 A husband and wife team have founded a bakery at a farm shop near Ipswich.
The Little Pig Bakery has been launched by Zoe and Tristan Hasler at Alder Carr Farm. Products are sold online and can be collected once a week, with the couple planning to increase collections to twice a week from next month.
The business offers brownies, fresh pastries, breads and pies, alongside sweet or savoury platters and custom cakes. Its most popular items include lemon meringue cruffin and savoury bacon, leek and smoked cheddar pastry.
The bakery also supplies a range to the deli counter at Alder Carr Farm, including quiches and scotch eggs.
"We have always been lovers of sweet baked goods and dreamed of owning a bakery. It's been over a year of planning in the making: Tristan is the main bread maker and has always been interested in the pastry side. He has taught me nearly everything I know," said Zoe.
The couple previously owned The Barn Café, a small café/restaurant at the same site.
Tristan worked there as a chef for 10 years, and became head chef eight years ago. A home baker with experience in the pub business, Zoe had worked on the farm since she was a teenager. The pair then bought the business, which they ran for five years.
Zoe and Tristan decided to close the café before the coronavirus crisis, but lockdown slowed down the process of opening the Little Pig Bakery.
"We did cake and delivery boxes during Covid-19 through The Barn Café, which gave us an insight into what our customers are looking for. We have officially opened towards the end of the Covid-19 lockdown. We hope to grow and open a shop of our own as we are currently all online," she added.