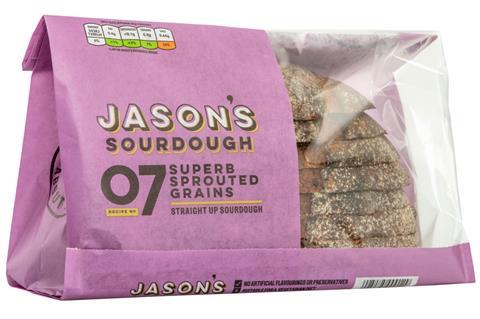 Jason's Sourdough is adding a new sprouted grains loaf to its Straight Up Sourdough range, with the brand also announcing a distribution deal with Tesco.
The Superb Sprouted Grains loaf from the Geary's Bakery-owned brand will be available both online and in 270 Tesco stores from 6 September, alongside the recently launched The Great White.
The two Straight Up Sourdough loaves are pre-sliced in a half boule shape. The sprouted grains are soaked in the Jason's Sourdough culture before being added to the final dough, which goes through a 24-hour fermentation process. Geary's claims the bread offers health benefits such as better digestion and higher nutritional content.
"We are absolutely delighted to be launching in Tesco this September, building on our distribution in M&S, Asda and Ocado," said Jason Geary, master baker and MD of Geary's Bakery.
"The new Sprouted Grains loaf has been created with innovation at the forefront, to bring new bursts of flavour to our sourdough range, with quality ingredients as our top priority. We can't wait to share it with our loyal and new customers alike," Geary added.
Jason's Sourdough products contain no added sugar, preservatives or additives. The 450g Straight Up Sourdough loaves are packaged in paper bags with transparent film and a resealable label, with an rsp of £1.80.