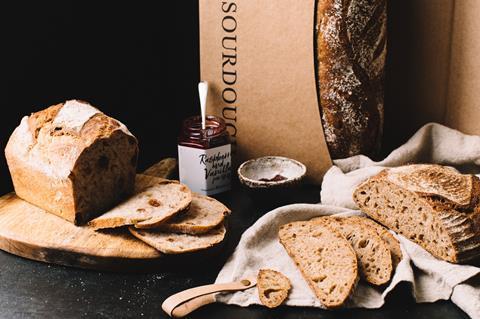 Lovingly Artisan has joined forces with Hawkshead Relish to offer online customers a breakfast bread box.
The box contains a Lovingly Artisan Wholemeal & Scalded Bran sourdough loaf, a Spiced Apple sourdough loaf and a Five-Grain Rye sourdough loaf, accompanied by a pot of Hawkshead Relish's handmade Raspberry and Vanilla Jam.
Customers across the UK can order the trio of breads and accompaniment online from the Cumbria-based baker's website and have them delivered to their door.
''Lovingly Artisan approached us several months ago with the outline idea of creating a breakfast box centred around the natural combination of artisan crafted sourdough breads and small batch handcrafted preserves," said Maria Whitehead, co-owner of Hawkshead Relish.
"We were only too pleased to have the opportunity to work with them to develop the idea with them, initially pairing their breads with our Raspberry and Vanilla Jam."
Catherine Connor, co-owner of Lovingly Artisan Bakery, which established its online bakery shop in November, said the collaboration with Hawkshead Relish is a result of customer demand.
"As we develop our bread box range further, we'll add other condiments to the list so that even more of our customers can enjoy the perfect flavour combination of bread from the Lovingly Artisan Bakery and preserves from Hawkshead Relish.''