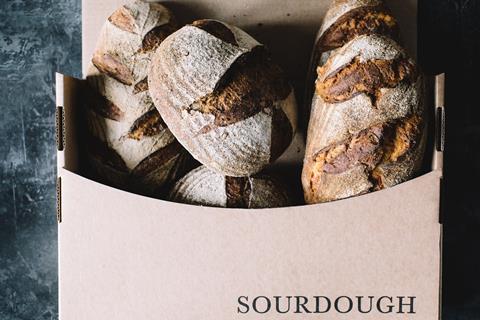 Lovingly Artisan has unveiled an online shop which offers next-day nationwide delivery of its sourdough loaves.
Described as a virtual bakery store, it includes 13 loaves from its heritage and health eating ranges.
Items available include its kombucha sourdough, which was named Bakery Innovation of the Year at the 2019 Baking Industry Awards, a Heritage white miche, five-grain rye bloomer and malted barley loaf.
The Kendal-based bakery worked in partnership with packaging design specialist Scratch Creative to design the website, as well as courier service Hart for delivery.
The launch follows the challenges of Covid-19 and setting up a virtual baking club to help customers with their sourdough bread questions.
Co-founders Catherine Connor and Aidan Monks, who was named Baker of the Year at the 2019 Baking Industry Awards, wanted to expand the bakery's reach.
"We saw this as an opportunity to further develop our business and help us reach new markets whilst at the same time meeting the demand from potential customers for our quality artisan sourdough breads," said Connor.
"Obviously being able to meet that demand presented us with a number of challenges, but thanks to some very innovative companies we have been able to meet those challenges head on and can now begin to deliver fresh Lovingly Artisan breads direct to people's homes up and down the country."
One challenge was keeping the products fresh and undamaged during transit. They set about devising a packaging system, which would protect the bread in transit without using insulation or plastics. The result was an environmentally friendly delivery system that doubles up as a recyclable bread bin and removes the need for cooling.