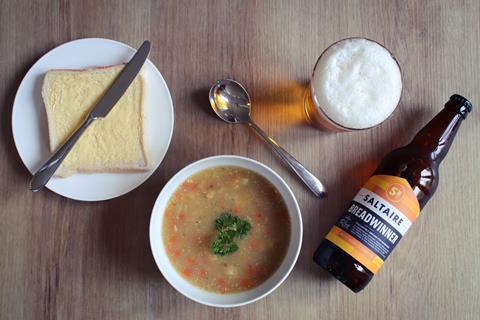 Morrisons has teamed up with Shipley-based Saltaire Brewery to create an ale from surplus bread.
Called Breadwinner, the golden ale has a 4.4% alcohol content and is made using surplus bread from Morrisons' central Rathbones bakery in Wakefield. It is described as a golden ale that has toasty notes from the bread and a citrus kick from British hops, said the firm.
It is part of Morrisons The Best range and has an rsp of £1.75 or £6 for a four-pack. It is available now in 290 Morrisons stores.
"This is another step on the journey in our partnership with Morrisons. Both companies value the support of local relationships, and this beer is another product of that principle," said Nick Helliwell, sales director at Saltaire Brewery.
The brewery previously collaborated with Morrisons in 2018 to supply beer for its Steak & Ale pie.
"By its nature, Breadwinner pairs brilliantly with food, especially some of the other products that we produce together, such as Morrisons steak & ale pie, and this summer's beef & ale burger, that are both really popular with customers."
Bread-based beer is becoming increasingly popular as bakers and brewers team up to reduce waste. Toast Ale is one such example and, this year, partnered with Warburtons to create a beer made from 'wonky' crumpets. In 2018, Newport-based Tiny Rebel joined forces with Iceland to create a British pale ale from the retailer's surplus bread while Marks & Spencer worked with Adnams to make beer from the crusted ends of sliced sandwich loaves.