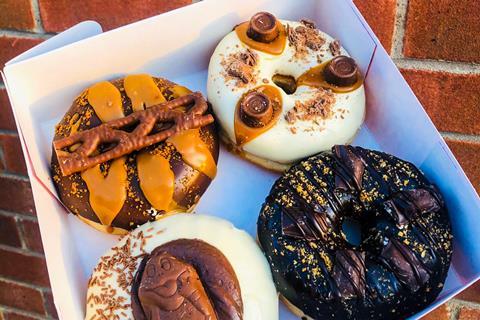 Project D, the Derby-based luxury doughnut maker, is to open a distribution centre in Leeds creating 20 jobs.
The two-year-old company, which pivoted its business to an online model in response to the Covid-19 pandemic, will supply doughnuts across the North of England from a unit in Pottery Fields.
Co-owner Matthew Bond said the new site would initially act as a distribution hub to extend the areas Project D covers.
"We've already moved our deliveries into Wakefield," he added. "We are moving into a significantly bigger bakery in Derby and our operation is round-the-clock to ensure that every single doughnut we sell is absolutely fresh.
"The long-term plan will be to transform the unit into a doughnut shop and café, and we have loads of really exciting ideas about exactly what this will look like – we want it to be really unique and inventive to reflect the brand."
In its first year Project D made doughnuts for a Love Island after-show party, London Fashion Week and received an order for staff and residents at Windsor Castle.
However, the week before lockdown the business was forced to close its two kiosks in Derby's Intu centre and Burton's Coopers' Square and saw its events marketplace wiped out.
"We furloughed almost all our staff and sat down to work out what on earth we could do," co-owner Max Poynton said. "Although we had money in the bank that would keep us going in the short term, we knew it wasn't sustainable and that there had to be other options."
Together with third co-owner Jacob Watts, the men pivoted the business to buy eggs from a local farmer to temporarily relaunch as an egg delivery service.
Yet, within a week of furloughing approximately 25 staff members they'd brought them all back and recruited three more.
Project D quickly realised that it could better serve the community through pop-up stands outdoors and by extending its range to include yeast and flour, which were also in huge demand.
As an essential retailer, the business was also able to sell non-essential doughnuts alongside the raw ingredients.
During the two months, the founders spent selling eggs and essentials, they also built up a home delivery service on the side, supplying doughnuts to households across the region, including Nottingham, Stoke, Sheffield, Leicester and Birmingham.
The company hopes to create an additional 10 roles when the Pottery Fields unit eventually becomes its flagship store.
It has also invested in a new hub and side venture called Project Whippy, which operates from a traditional ice cream van and serves doughnuts filled with ice cream, which are warm on the outside and frozen in the centre.
The Conut, a cone-shaped doughnut topped with ice cream and lashings of sweets and sprinkles, is described as the most popular line.