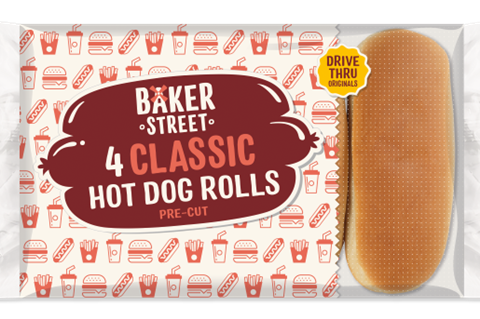 St Pierre Groupe's Baker Street brand is to triple distribution of its Drive Thru Classics range of Original Burger Buns and Classic Hot Dog Rolls in Tesco.
The four-pack rolls will be stocked in 371 stores this summer – up from 127. The buns will be sold in 323 stores, up from 127, and feature six per pack.
The products – which are designed to 'handle the heftiest of fillings' – have a £1.29 price tag.
Chris McLaughlin, commercial director at St Pierre Groupe, said availability and shelf-life were just as important to retailers as consumers.
"We know, from conversations with our retail partners, that forecasting during the great British summer is a challenge every year," he said. "Add to that the uncertainty that played a part with Covid in summer 2020 and the feedback from the trade when it came to forecasting was 'we know we'll get it wrong, it's just how much we get it wrong by'.
"Baker Street's extended life products – whether it's sliced bread, burger buns or hot dog rolls – ensure on-shelf availability, reduce the risk of wastage and offer a quality product that's always there for the consumer."
Baker Street's launch into Tesco earlier this year was the first permanent major multiple listing for the brand, which had previously offered seasonal festive ranges.
The company claimed its Stollen, which launched exclusively with Tesco for Christmas 2020, drove value sales of more than £1.4m.
Baker Street has grown 30% year on year and is celebrating five consecutive years of double-digit growth, with a brand value in excess of £25m.
St Pierre Groupe, meanwhile, saw revenue pass £100m in 2020, with co-founder Paul Baker eyeing £150m by 2022.
St Pierre secured its first listing with the Co-op in April for its Sliced Brioche Loaf and doubled the number of Tesco stores it supplies.